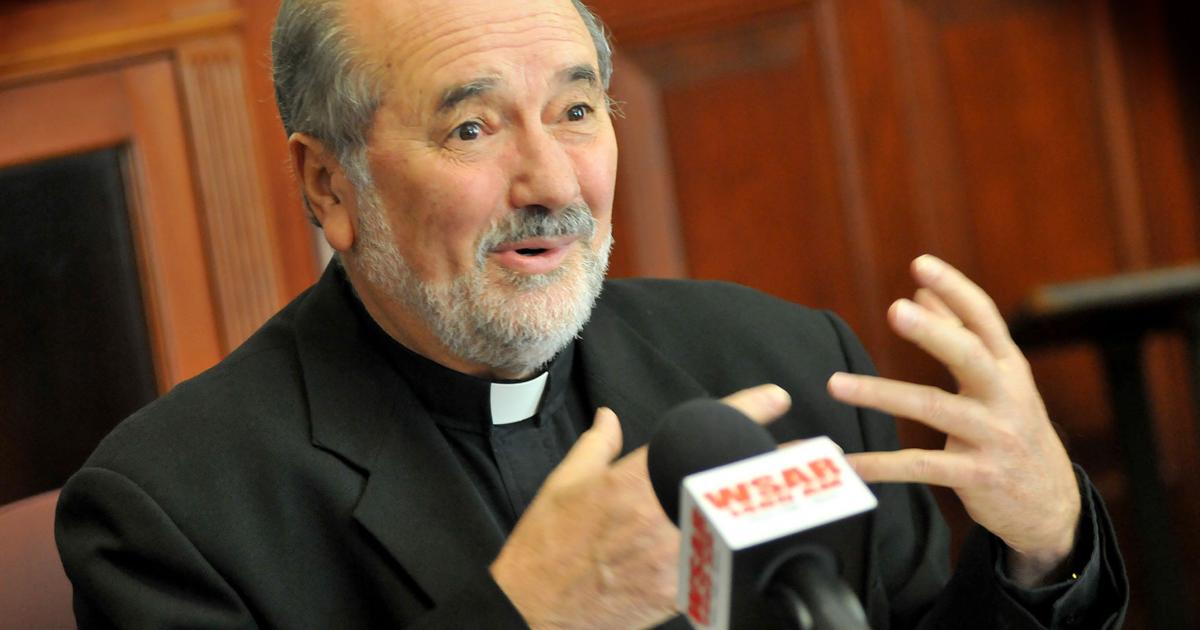 FALL RIVER – Allegations of child sexual abuse against three suspended priests, two of whom have connections to the Attleboro area, have been found to be credible, and none will return to ministry, the Diocese of Fall River said Monday .
Edward J. Byington, Richard E. Degagne, and James F. Buckley have been added to the list of "credible accused" clergy on the diocese's website, fallriverdiocese.org.
Byington has previously served at St. John's the Evangelist in Attleboro and Our Lady of Mt. Carmel in Seekonk in addition to working with Girl Scouts in the Attleboro area of ​​America, according to the diocese.
Lawyer Mitchell Garabedian said in 2020 he was representing a client who was allegedly assaulted by Byington in a parsonage in Taunton after the client attended a teenage religious retreat in 1971.
Degagne was the pastor of Immaculate Conception Parish in Easton and had previously served at Saint John the Evangelist Church in Attleboro and Sacred Heart Church in North Attleboro, according to the diocese.
He was suspended in 2019 for alleged misconduct decades ago and before he was a priest.
Byington and Buckley were suspended in 2020. Both were retired at the time and were not assigned to a parish, but had participated in the celebration of Masses in various parishes since their retirement.
All three priests denied the allegations, the diocese said.
Degagne, ordained in 1982, also had assignments at Holy Name in Fall River, St. Anthony in New Bedford, Notre Dame in Fall River, Immaculate Conception in Taunton, and St. John in East Freetown.
Byington, ordained in 1970, had previous assignments at Sacred Heart Parish, Fall River; Sacred Heart Parish, Taunton; St. Patrick's Parish, Fall River; Saint-Paul Parish, Taunton; Saint-George Parish, Westport; Sacred Heart Parish, Fall River; Parish of Saint-François-de-Xavier, Hyannis; and St. Thomas More Parish, Somerset. He retired in 2006, according to the diocese.
Buckley, who was ordained in 1959, was assigned to St. Mary's Cathedral in Fall River; Sacred Heart Parish, Fall River; Immaculate Conception Parish, North Easton; Parish of Saint Joan of Arc, Orleans; St. Augustine Parish, Vineyard Haven; St. Margaret Parish, Buzzards Bay, and Holy Redeemer Parish, Chatham, until his retirement in 2001.
Before making a decision in these cases, the diocese said it followed its protocols, including notifying civil authorities, conducting its own investigations and bringing cases to the Ministerial Review Board. The review committee serves as an independent and advisory body to advise the bishop on allegations of clergy misconduct.
After reviewing all the facts and receiving the recommendations of the Ministerial Review Committee in each case, Bishop Edgar M. da Cunha determined that the allegations were credible and informed the three priests that they would not return to the ministry, officials from the diocese said.
"My prayers are with all those who have suffered sexual abuse from the clergy, especially as a minor," da Cunha said. "Their pain is real and long lasting, and the perpetrators must be held accountable. "
Priests are not authorized to exercise any public ministry, including the celebration of public mass or other sacraments. They cannot provide spiritual direction, cannot wear office attire, or present themselves as priests.
Diocesan policies indicate that an allegation of sexual abuse of a minor is considered credible when it has a "semblance of truth" under canon law, using a standard of proof approaching probable cause, and when it meets the definition of sexual abuse of a minor as set out in these policies. Diocesan policies and the United States Bishops' Charter for the Protection of Children and Youth require that an offending clergyman be barred from ministry and his faculties removed.
More than two dozen priests who served in the Attleboro area were among the 75 clergy whose names were released by the Diocese of Fall River last January as having been credibly or publicly accused of sexual abuse on a minor.
Of the 650 priests who have served the Fall River Diocese since its founding in 1904, 47 have been credibly accused of child sexual abuse.
Through its Victim Assistance Program, the Diocese of Fall River provides support services to victims of clergy sexual abuse and their families as well as members of parishes affected by these cases.
For assistance, contact Carolyn Shipp, Director of Safe Environment and Victim Assistance Coordinator, at 508-985-6508 (confidential voicemail) or [email protected]