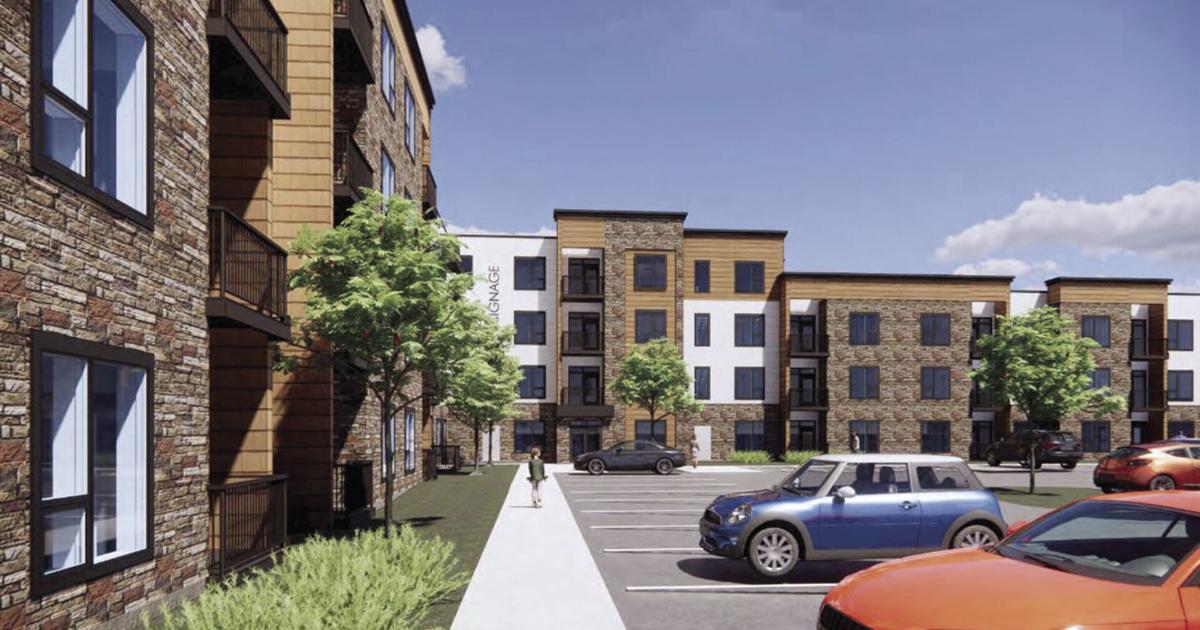 Aldersgate Methodist Church, a longtime institution in St. Louis Park, is about to make way for an apartment building.
The church at 3801 Wooddale Ave. has existed since its dedication in 1951, but declining attendance prompted the church to relocate.
"Aldersgate Methodist Church is downsizing and sharing space with another local church," says a report from town staff. "Aldersgate wants to leave behind a legacy of affordable housing for the St. Louis Park community."
Both churches plan to vacate the space in the coming months, the report adds.
The 3+ acre site would develop into a residential property with 114 affordable units over three or four floors.
The Wooddale Avenue Apartments project drew strong opposition from some neighbors and support from other speakers at an April 4 St. Louis Park City Council public hearing. Despite the mixed opinions, the council voted 6-0 to approve several changes to allow for the development, including a complete plan change, release of a roadway easement, approval of a flat for the building of apartments and the change in zoning from a two-family residential to a project-unit development, a city designation that allows for greater flexibility in design.
St. Louis Park's senior planner, Laura Chamberlain, said of a neighborhood meeting in March, "Commentators in general were opposed to the high-density land use at this specific site while others were concerned not only about the impacts of development, but also about the cumulative effect of recent and future developments in the Elmwood neighborhood.Commentators were particularly concerned about the increased vehicular traffic on local streets.
They particularly objected to driveway access to the site which had been proposed on Cambridge Avenue, she said. The Planning Commission recommended approval of the scheme on the condition that access to the driveway leading to Cambridge Avenue to the south of the site be removed.
Several speakers at the council meeting indicated that they appreciated the removal of access to Cambridge Avenue, but continued to oppose the project.
Blake Chaffee, who lives on Cambridge Avenue, said he was grateful to the planning commission for recommending the removal of south access – a recommendation approved by council.
"There are a lot of young families, young kids in the neighborhood, and I think traffic would have been a problem for us," Chaffee said.
"I think it would have been dangerous for the kids riding and playing there."
He continued to oppose the plan – but not because of the apartments containing affordable housing, he said.
"I believe the proposed density is just not reasonable in a residential neighborhood," Chaffee said.
Bryan Miller, another Cambridge Avenue resident, described his concern about his 6-year-old daughter's ability to play in the neighborhood.
"It's so upsetting for all of us," he said, describing the situation as emotional for him. "I love St. Louis Park, but I don't want cars exploding up and down."
He suggested the space could be used for a park instead.
"There are all sorts of things that can be done, but I feel like money drives it all," Miller said.
Ken Savik, a Cambridge Avenue resident, said the project reinforces residents' sense that they are "sandwiched" by a new development.
"How long do I even want to live in the neighborhood?" Savik asked.
Wendy Kaufmann, another Cambridge Avenue resident, said the development would change the neighborhood forever. She said she had nothing against affordable housing and supported multifamily housing in general, but she said, "The balance is shifting so dramatically."
However, Frederick Avenue resident Ken Isham-Schopf spoke out in favor of the project, saying the world is changing.
"We need high-density buildings to meet the challenge of climate change – and all of our neighborhoods and communities face this challenge," he said.
Barb Patterson, a resident of Wooddale Avenue, also spoke out in favor of the project, saying she was particularly pleased that it included many three-bedroom units for families. She expressed disappointment, however, that only five of the units were reserved for residents representing up to 30% of the area's median income. Most of the rest are reserved for households earning up to twice as much, with five more restricted to families earning half the region's median income.
"Hopefully we're on track to continue to provide some of these very affordable units," Patterson said of the city's overall housing goals.
Cambridge Avenue resident Dale Tatarek reiterated that opponents are not concerned about the affordability of the project, but rather the density, traffic and potential for overflow parking, especially with the increase in other apartment buildings near the future light rail.
Council member Lynette Dumalag asked a representative from the developer, Real Estate Equities, whether downsizing and scale of the development would be economically feasible. Alex Bisanz, the company's development partner, said planners have already reduced the plan from 125 units to 114.
"It was really the all-time low we could hit," Bisanz said, citing increases in construction costs and interest rate hikes.
As for parking, he said the planned 205 spaces exceed the city's needs.
Planning Director Sean Walther added that there is currently no shortage of on-street parking and the city has not reduced on-site parking needs despite the proximity of light rail. If parking issues develop, the city may consider restrictions.
A traffic study indicated that the worst-case scenario would be that the development would generate 125 additional journeys per day, he noted.
"It's not out of step with a residential neighborhood," he said of the expected traffic counts. "It was not excessive"
Councilor Margaret Rog echoed Isham-Schopf's call for higher density housing in supporting council approvals.
"We are a fully built community, and so when a church comes forward and says they are interested in changing what is happening on their property to make room for affordable housing, I believe it is our duty. and our responsibility as a city and as a community to accept this offer and look for ways to develop the kind of housing we need in the community," Rog said. "We also need workforce housing in this community, and that's really what it's all about.
Dumalag said the larger units would help the school district's enrollment and spoke out in favor of affordable housing, noting that his family could not live in St. Louis Park when moving to Minnesota from the Philippines because no affordable unit was available to them.
Council member Larry Kraft said money was not the driving force behind his decision-making, but he said: 'There is nothing more fundamental to success in society than having a place safe, healthy and affordable place to live. And it's about doing our part to meet that need of our residents and the people who work in our community and the businesses that employ them.
He said he sympathized with residents of the neighborhood who are facing change amid a buildup near the light rail line.
"I understand that you feel a lot of it and I see that more could very well happen," Kraft said. "I think we can do it in a smart way."
Council member Tim Brausen addressed the suggestion of making the land a park, noting that the city does not own it.
"The church owns the land," he said. "The church chose to dedicate it for this purpose because they are selling it. They have asked for our permission, and we are prepared to grant it.
He added: 'Please support your new neighbours. They want to live here too, and they also want to be good citizens of the community.
The city plans to support the project beyond approvals. The developer is seeking $940,000 in tax increment funding, which returns property tax money to the developer for a period, and an additional $850,000 from the city's Affordable Housing Trust Fund.
Copyright © 2021 by Sun Newspapers/APG Media of East Central Minnesota. Digital distribution of this content without prior written permission is a violation of federal law and may be subject to legal action.