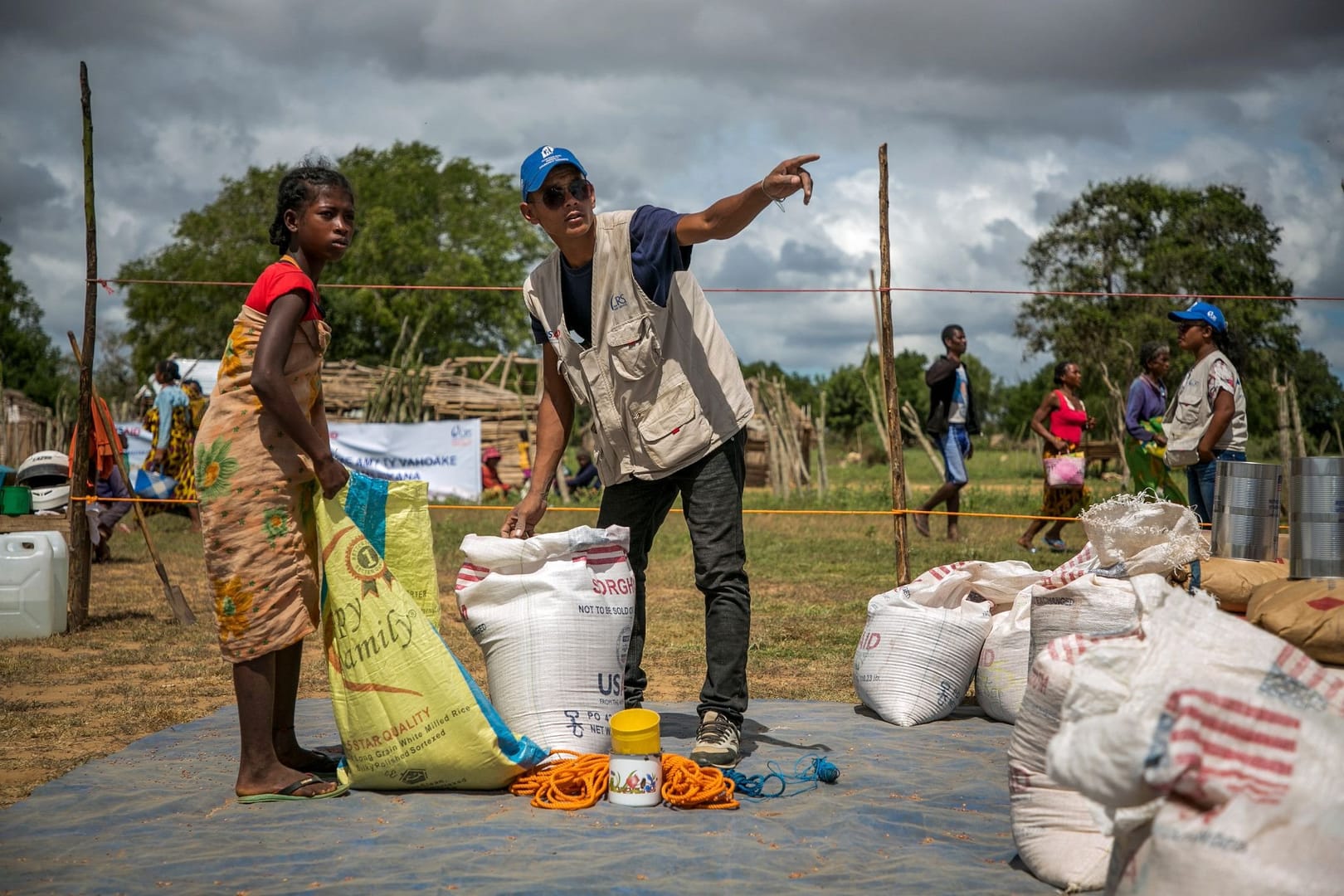 [ad_1]
YAOUNDÈ, Cameroon – Catholic Relief Services (CRS), the international development arm of America's bishops, has listed the top global humanitarian crises to watch for in 2022.
From the threat of famine in Afghanistan and Ethiopia to terrorism in the Sahel, crises will be compounded by the spread of the COVID-19 pandemic, climate change and political upheaval.
At least 274 million people worldwide will need humanitarian assistance, according to the United Nations, which is a 17% increase from 2021.
"As the planet warms, Western countries, which have more resources, will be able to cope with climate change. However, in low-income countries there are no such safety nets, "said Kim Pozniak, senior director of global communications for CRS. Node.
Here are excerpts from this interview….
Node: Catholic Relief Services responded to a number of crises around the world in 2021. Which do you think have been the most difficult?
All of the crises included in our 2022 crisis list – like Afghanistan, Haiti and Yemen – are difficult to deal with in their own way. Yet what they have in common is COVID-19. As we enter our third year of the pandemic, COVID-19 continues to wreak havoc around the world. Beyond disrupting health systems, supply chain disruptions linked to COVID-19, lockdowns and travel restrictions have exacerbated crises in these countries. This is why we need to make sure that vaccines become much more accessible. Until more people are vaccinated in low-income countries, we will continue to see these challenges arise for the foreseeable future.
Where do you think CRS has been successful and where could you have done better?
Since the start of the pandemic, CRS has adapted its emergency response and development programs to the context of COVID-19. For example, we have modified evacuation centers for more safety, sanitation and physical distancing, and we have incorporated physical distancing measures into our relief distributions.
As of March 2020, CRS has reached over 28 million people with COVID-19 response activities. We continue to focus on immunization and support for vaccine deployment. Meanwhile, a comprehensive CRS program continues to help extremely vulnerable families and communities manage the long-term impacts of the pandemic.
However, some crises are more complex than others, making it more difficult to deliver aid. For example, in Haiti, ongoing political unrest and gang violence have at times compromised our humanitarian and development activities. The roads are becoming impassable. Unfortunately, most of these circumstances are beyond our control – and people suffer as a result.
CRS has compiled a list of the top eight humanitarian crises to watch for in 2022. Three of them are in Africa. Are they drastically different from 2021 or are they the same?
In the words of the late Desmond Tutu, many African countries – like those on our list – suffer from "adaptive apartheid", which gets worse with each passing year. As we have seen firsthand in our work, climate change is worsening global inequalities. As the planet warms, Western countries, which have more resources, will be able to cope with climate change. However, in low income countries there are no such safety nets. Poor farming communities from Madagascar to Niger are being wiped out by drought. We will likely see much more suffering caused by climate change in low-income countries in the years to come.
The Ethiopian crisis is considered by CRS to be the second most important hotbed of crisis to watch in 2022. How big is it?
The crisis in Ethiopia continues unabated, with more than 8 million people affected across the country, including some 2 million people who have been displaced from their homes. Millions of people need food and other essentials. With power cuts, water shortages and bank closures in Tigray, men and women are struggling to find medical care, food, water, hygiene products and shelter. .
How would you rate CRS 'interventions in Ethiopia in 2021 and what plans do you have for 2022?
Since the start of the conflict, CRS has provided food to 3 million people in the affected region. CRS also supported screening for malnutrition and provided livelihood materials; cash assistance; construction of shelters for the displaced; drinking water and hygiene kits; and the construction of hydraulic infrastructure. Once access to the most affected areas allows, we hope to reach up to 6.5 million people with food assistance.
The same question can be asked for the crises in Madagascar, which comes in third place in your list, and in the Sahel which comes in eighth position. Why should they be watched closely and what does CRS plan to do next year?
In the Sahel, the combination of conflict, climate change and COVID-19 has had a staggering effect on the humanitarian situation, which we hope will worsen over the coming year. For Madagascar, the drought paralyzes the farming communities in the south. Of course, the spread of COVID-19 complicates these contexts.
One of the most important points we have raised over the past year is the need for equity in vaccines. According to a World Health Organization survey of 25 African countries, on average 27% of healthcare workers are fully immunized, compared to 80% of healthcare workers in high-income countries like the United States. Such a disparity is shocking. CRS will continue to advocate for vaccine equity over the next year – and until we close that gap.
Obviously, such interventions require funding. How much funding do you think you'll need next year, and how are you going to get the money?
Despite the pandemic, donations to CRS have been strong and growing. While blocks and restrictions may have changed the way we connect with our donors – more virtual, less in person – the underlying fundamentals haven't changed. Typically, our donors are motivated by their faith and give generously in an emergency, especially when media coverage of an emergency increases. We also benefit from generous funds from public and institutional donors.
Yet even with this vital support from our various donors, we fear that not enough attention or funding is directed to urgent crises that are far from the limelight (for example, the hunger crises in South Sudan and south of Madagascar), and that essential resources have not been sufficient to meet humanitarian needs in many areas.
[ad_2]