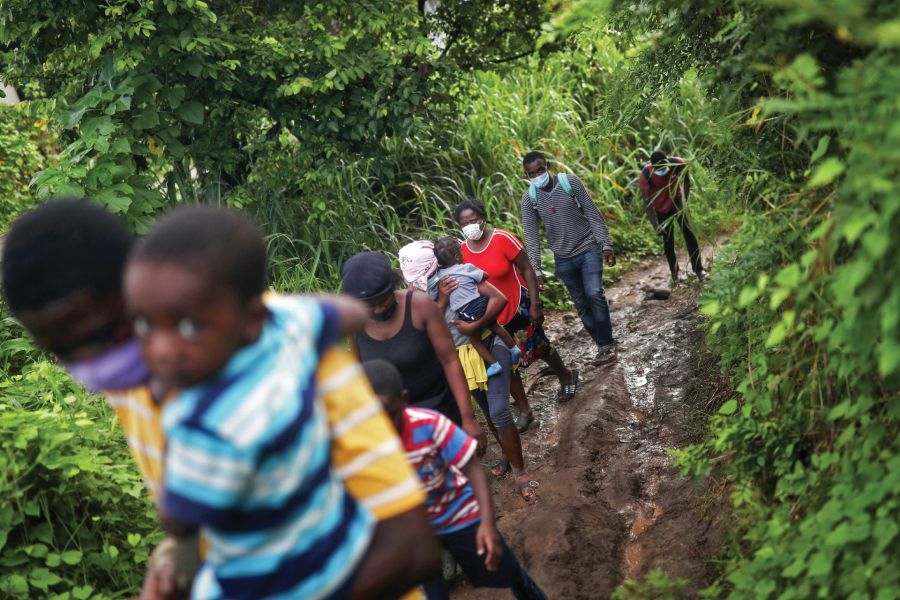 From Haiti to a small town on the border of Texas, the desperation of families in the poorest nation in the Western Hemisphere is intensifying.
In the Archdiocese of Baltimore, frustration is mounting among the physically severed churches of sister parishes on the western half of the island of Hispaniola, where the misery is compounded by gang violence, the COVID-19 pandemic, the assassination of President Jovenel Moïse, an earthquake, tropical storms and immigration roadblocks.
Thanks to the Baltimore Haiti Project, which was founded in 2001, the Archdiocese has established a large presence in the Diocese of Gonaïves, north of the capital Port-au-Prince. It was founded and directed by Deacon Rodrigue Mortel, who escaped the abject poverty of Saint-Marc, his hometown, and returned to build several schools there.
Deacon Mortel having retired from the Archdiocesan Missions Office, his family foundation remains a clearinghouse for overcoming the logistical challenges of delivering relief directly to sister parishes.
"When a new pastor comes on board (in Haiti), there may be difficulty opening lines of communication," said Rachel Bowles, director of operations for the Mortel High Hopes Foundation for Haiti. "We also help parishes with some basic issues, such as the costs of goods and services. "
A new pastor for his sister parish – then divided into two parishes – made matters worse for St. John the Evangelist, Long Green Valley, in Hydes, which has had one of the archdiocese's longest lasting presences in Haiti.
This effort includes Dr. James Taneyhill, a dentist who has carried out countless assignments to The Good Samaritans School in St. Mark's, where he led a team that has built, in his opinion, "the best dental clinic in the world. 'Isle". Taneyhill last visited Haiti in August 2019.
"The gangs control road access and carry out random kidnappings," Taneyhill told Review. "Neither our dental group nor our parish committee intend to visit Haiti in the immediate future due to the threat of violence and not just the risk, but… the likelihood of being kidnapped.
From Anne Arundel to Washington counties, parishes face similar dilemmas and are content with a visit from the pastor of their sister parish, rather than sending a delegation themselves.
In simpler times, over 100 high school students, many from Archbishop Spalding High School but with Calvert Hall College High School, Maryvale Preparatory School and Notre Dame Preparatory School also represented, participated in summer missions to the school of good samaritans and other institutions near St. Marc. These opportunities were also put aside.
Since a magnitude 7.2 earthquake struck the western port city of Les Cayes on August 14, Archbishop William E. Lori has encouraged parishioners to donate directly to Catholic Relief Services.
CRS and Georgia-based Bridge 410 relief efforts benefited from the generosity of the Church of the Nativity in Timonium, of which Father Michael White is pastor. His Twitter feed noted on August 23 that "this weekend we titled our collection of offerings for relief efforts in Haiti. Tithing, along with designated parishioners' donations, exceeded $ 35,000. "
The United States Conference of Catholic Bishops' National Migration Week ended on September 26, to coincide with World Migrants and Refugees Day. The week began with footage from Del Rio, Texas along the Rio Grande, where border patrol officers on horseback removed refugees from an encampment that the Associated Press said was nearing 15,000 on the 18th. September.
Some fled Haiti after the 2010 earthquake that devastated Port-au-Prince. According to Catholic News Service, Haitians were part of a caravan of 400 migrants and asylum seekers that left a Mexican town near the Guatemalan border and headed north in late August.
Copyright © 2021 Catholic Media Review

To print