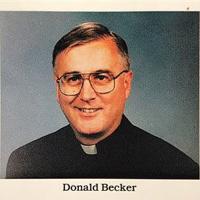 "No, I didn't," Becker told The News, when asked if he had ever molested children. "Definitely not sexual… It's quite shocking."
King posted a raw and powerful 3,800-word essay on Facebook this week about the alleged abuse and its effect on his
But more than two dozen men have come forward publicly in lawsuits describing how Becker victimized them as children, often showering them with alcohol at his cabin in Java, Wyoming County. Others who alleged Becker abused them, including Harry King of Buffalo, received settlements through a diocesan compensation program.
King said Thursday that Becker's death was heartbreaking because it eliminated the possibility of the priest being questioned under oath about what he had done.
"I'm certainly not glad he's dead, just from a human perspective," said King, who alleged Becker sodomized him in 1975 when he was 13 and was parishioner to SS. Peter and Paul Church in Hamburg. He said he was angry because "we're never going to get him dropped off."
King said he first reported the abuse to diocesan officials in 1992 and "they did nothing but blatantly lie to me."
Becker served in at least nine parishes in the Diocese of Buffalo from 1968 to 2002, including St. Mark in Rushford, St. Mary of the Assumption in Lancaster, St. Bonaventure in West Seneca, SS. Peter & Paul in Hamburg, Nativity of Our Lord in Orchard Park, St. Stephen in Grand Island, St. Agatha in Buffalo and St. Joseph in Fredonia. His last position was pastor of Sainte-Marie in Batavia, where he was appointed in 1991.