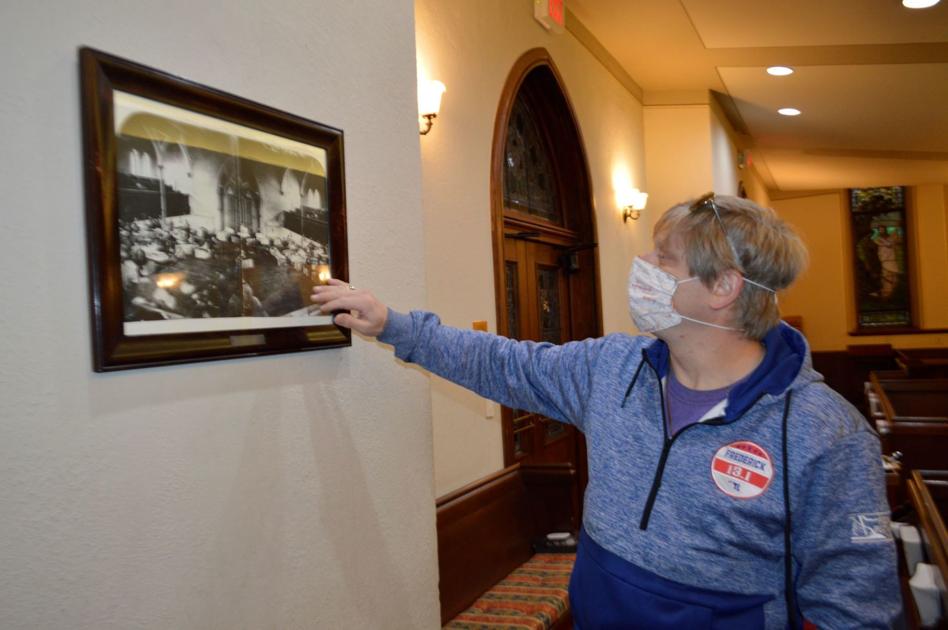 The Evangelical Lutheran Church, an iconic part of the downtown Frederick landscape, has undergone a facelift for most of the year. And on Saturday, the congregation hosted a small barbecue to thank those who made the process possible.
Held from 3 p.m. to 6 p.m. Saturday on the sidewalk outside Church Street Church, the barbecue featured burgers, hot dogs and donuts which were handed out to all interested passers-by. Chris Stromberg, chairman of the church fundraising committee that oversees the funding for the restorations, said it was just a way of saying thank you to Frederick.
According to Stromberg, the restoration of the building's facade was an important part of preserving not only the congregation's home in the building, but also the building's significant cultural status in the community.
"We think that's part of our stewardship of this building; this building was given to us by our predecessors here, and it is our responsibility to take care and maintain it, "he said, adding that this was the biggest restoration effort in the world. scale of the building since the late 1880s. "It's been there for 160 years, and we want it to be there for the next 160, 320 years into the future.
And the way to do it was simple, but it was no small task: to raise a lot of money. Stromberg said the overall cost of the project is estimated at $ 1.8 million. Near its completion, the project raised around $ 1.43 million, Stromberg said, adding that the project itself lives up to its name "Preserving the past, building the future."
Stromberg said the success of the fundraising campaign has been nothing short of "phenomenal," especially since the project was announced early in the pandemic.
"The pandemic struck, and we still had to do it, but we were like, 'How are you going to fundraise for a project like this in the midst of a pandemic, when the church itself is closed? "" said Stromberg. But, he said, the congregation and the community at large have come together to make substantial donations.
Reverend Dr Paul Baglyos, the community's acting senior pastor, said he was immensely proud of the work that has been done for the church. Baglyos, who has only been in church for five months, joined the congregation during the facelift of the building, but said he was still impressed with the progress he had seen.
"The congregation is very excited," he said. "It is a very special place for many members of the congregation, many of whom are from families who have been multigenerational members of this congregation.
"I spoke with a number of people in the congregation who told me how this space, especially the interior, nourishes their piety, their experience of God," Baglyos continued. "And so maintaining it, even though it is a challenge of constant weight, is also a way of taking care of the members of this congregation and of being good neighbors of this community. "
Follow Patrick Kernan on Twitter: @PatKernan