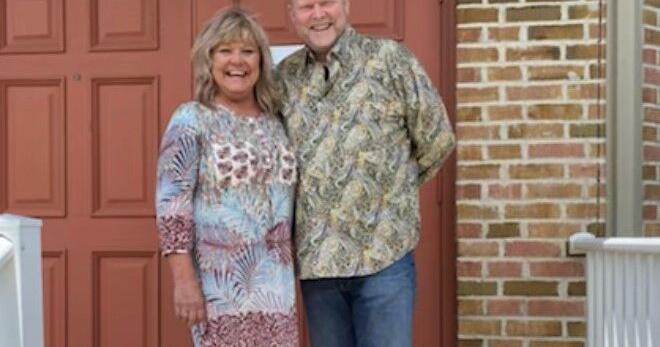 SCOTTSVILLE, Ky. (KT) — Leaving a large, successful church for a country church with only 17 members is not the typical path for a pastor.
But Kent Holland's spiritual experience told him it was the Lord's direction, not his own understanding. So, four years ago, he transitioned from a growing church in northern Kentucky to small community church life in Scottsville.
He was senior pastor at Burlington Baptist when he received an unexpected call from pastor Berean. The pastor was stepping down, and the Lord put on his heart to call Holland, whose mother and father lived in the community. Holland's father had passed away and his mother was alone and in poor health.
Family responsibility weighed heavily on Holland's heart since he was an only child and his mother needed care. His children (and grandchildren) also lived in the area. He knew the decision was bigger than him. Prayer would give him the answer.
"So my wife, Diane, and I started praying about it," he said. "I left a church that had between 600 and 800 people and came to a church with 17 people. It's not something you hear often.
Holland, who grew up in Cincinnati, was restless and also asked friends in the ministry to pray for him. The answer was to follow God's direction and go to Scottsville. He did it and never looked back. Despite obstacles, like COVID-19 less than two years into the ministry, he has seen the church begin to flourish. They were 93 at Easter and remained between 65 and 91 the following weeks.
What was once a one-child church when he arrived in December 2018, now had a growing youth group with 28 people coming every Sunday. The youths outgrew the basement space, and the church purchased a building for $16,000. Holland said he was paid during an emotionally charged service by anonymous donors.
The veteran pastor, who spent eight years as a worship pastor in Burlington before becoming senior pastor, isn't using any of the newest and greatest models for church growth. He uses the best model he knows – the Bible – and it has been glorious.
"Once a guy came up to me and said, 'What model do you use?' I said, 'The Book of Acts.' I'm a simple guy, not extremely smart, who loves the Lord," Holland said. "It's very simple: follow him. That's what we've done here.
Jeff Crabtree, the South Central Region consultant for the Kentucky Baptist Convention, can attest to Holland's passion for the Lord.
"Kent has invested a lot of love and energy in the church," said Crabtree, who works with him to develop Bible study groups for the church. "God worked to change the culture and the orientation of the people there. Kent has been a blessing to get to know and see how God has blessed him.
Holland said it wasn't about style, it was about message, and God honored that. He immersed the church in Bible study and the transformation was beautiful to watch.
"I'm not going to come here and do what they did because it didn't work," he said. "I told them that was going to change. We cannot continue to do what we are doing. It's broken. We had to stop thinking inside and think outside, focus more on the community.
The church responded immediately, and then COVID "knocked us down a bit," Holland said. "Meanwhile, this handful of people wanted to do things around the church and said, 'Let's do it while we're down.' We renovated the interior, put new chairs and carpet.
Holland also added a motorcycle parking area for the church. He and his wife ride Harleys and have toured the lower 48 states. He said when they traveled they worshiped in churches with motorcycles in the field.
Holland said the hiring of a young pastor, Shawn Holland, has been a huge boost for the church. Shawn (a distant relative) and his wife, Crystal, have made a difference in training the youth, and it has brought new energy to the church, he said.
Holland has had a handful of baptisms and prays for that number to rise as a committed congregation listens and learns from a 62-year-old pastor who thought life might slow down as he cares for his mother in her old age .
It also brought him new spiritual life. The church is growing, the congregation is engaged, and why Holland followed the leading of the Holy Spirit.
"It was beyond my wildest imagination," he said. "I could never have dreamed. I don't know why I feel like this since the God of the universe is the one who put me here. Why couldn't this have happened?