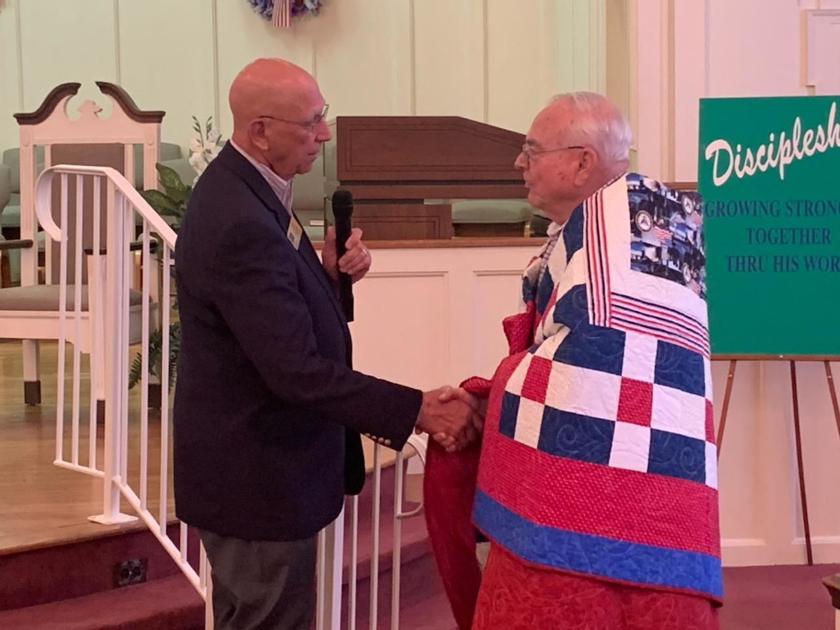 Patriotic plaid patterns draped over the shoulders of six U.S. Army veterans on Sunday at Laurel Baptist Church, as church members honored those veterans with Quilts of Valor.
The Quilts of Valor Foundation is a non-profit organization where volunteers donate their time and effort to make quilts in honor of veterans. Quilts are a symbol of protection and healing, draped over the shoulders of a veteran during the ceremony.
Regina Luker was living in Anderson in 2015 when she heard about Quilts of Valor at a Daughters of the American Revolution reunion. One of the members of her section was a volunteer quiltmaker.
"From that point on, I made it my mission to give my father a valuable quilt because he was a field doctor in Vietnam," she said.
In October 2016, she was able to see her father honored with a quilt for his service, and in the years that followed, it has become an annual DAR Chapter tradition to honor a local veteran. Eventually, Luker moved to Greenwood and became a member of the Laurel Baptist Church when his memory of the experience came back to him.
"I was on my way home and thought about it. I picked up the phone and called James.
Pastor James Rodgers liked the idea of ​​honoring church veterans. Together, they reached out to the eight veterans of the congregation; six of them were able to obtain their military service records in time for the organization to make quilts for them.
"There are a lot of Vietnam veterans who didn't get the recognition they deserved," Rodgers said. "It was a thrill, and it was touching for them."
At the ceremony Sunday, the wives of the veterans helped drape the quilts over their shoulders. Rodgers and his wife stepped in for those without families to wrap them in quilts.
Among them, Larry Ward, 82, said the ceremony was a fantastic experience – he just wished the other three church veterans could have joined them.
"It was very impressive for me, and I was honored to be a part of it," he said.
He had been in the Navy Reserve while in high school, and two days after graduation, enlisted in the US Air Force in May 1956. During his basic training, he served received a letter from the Navy telling him to report to work, but his Air Force Drill Sgt told him not to worry.
He served for four years and put his natural technical talents to good use by working in radar maintenance.
"I was interested in electronics before I even entered the service," he said. "It was exactly what I thought I wanted to do. "
Al White was recruited in 1967 but decided to enlist before his choice was withdrawn. He joined the Navy and was accepted into the Officer Candidate School in Rhode Island.
A chemistry graduate from Clemson University, he taught and worked in research projects in New Mexico. After four years of service, he remained in the Navy Reserve for a career of approximately 21 years.
"I had gone to a Quilts of Valor ceremony at the veterans center a few months ago, so I basically knew what it was," said White, 77. "I would say thank you to the other guys for their service, and thank you to the people at the church, mainly Regina."
Bill Haralson spent four months in Guam before his entire US Army Air Force company was sent to Taipei to build missile sites. The 86-year-old remembered the day he was recruited in 1957 and appreciated the efforts of his church members to recognize the service of him and other veterans. Raymond Davis was also honored with a quilt, but could not be reached for comment for this story.
"I was not married but for a little over a year. I didn't want to go, but I knew I had to, "Haralson said. "I think it was an honor to be with so many of us in one place."
Dwayne Bledsoe was the youngest of the group at 57. He enlisted in the Air Force in 1985 and served for four years, then spent two years in inactive service. In 1998, he joined the SC Army National Guard, where he served for 29 years until his retirement in February. During this time, he served in Iraq for 15 months, retiring as a First Class Sergeant.
It was nice to be recognized, but Bledsoe said that's not what you served for.
"You did it because you wanted to serve your country, not to stand out from anyone," he said. "You have to have a good wife. When I left for Iraq, I left with the conviction that I might never come back. My wife stayed at home to watch our two children.
Frank Eddy, 83, also reacted with humility. Having served in the Army National Guard before joining the Navy in 1956, he said he was grateful to serve in peacetime aboard a cruiser near Japan.
"It was very good service, I didn't know what to expect," he said. "I didn't really feel like I deserved it, but I was very grateful."
But Luker said humility is the reason she felt it was important to honor their service. Veterans don't often have a big ego, and she said their service often goes unrecognized by those around them.
"If you look at your story, almost everyone has a veteran in their family if you think about it. Settlements now, "she said. "I think veterans are the heart of our country. You listen to their stories and they are just inspiring.
Contact editor-in-chief Damian Dominguez at 864-634-7548 or follow us on Twitter @IJDDOMINGUEZ.