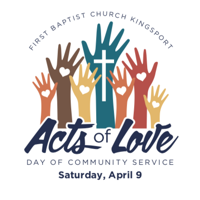 By Carmen Musick
"Love your neighbor as yourself." – Mark 12:31
KINGSPORT — A ministry event that has been in the works for years will finally come to fruition next month when First Baptist Church Kingsport launches Acts of Love: A Day of Community Service.
A massive exercise in being the hands and feet of Christ, Acts of Love will bring together hundreds of volunteers in a single day to benefit multiple individuals and agencies across the community.
Danny Silvey, associate pastor of young adults and families at First Baptist Church Kingsport, says the project grew out of a five-year visioning effort the congregation launched a few years ago — an effort that has been delayed. (like most things) by the COVID-19 pandemic.
"Acts of Love is an outgrowth of this visionary effort, focusing specifically on Christ's call for us to be his hands and feet, reflecting his words to 'love our neighbors as ourselves.' This event provides an opportunity to meet the needs of our hometown residents," said Silvey.
Year Three: Being the Hands and Feet of Christ was scheduled for 2021. Then COVID happened.
"Our planning team decided that this spring was the time to plan this event which has been in the planning stages for months," Silvey said.
Acts of Love: Community Service Day is now set for Saturday, April 9.
"We ask everyone who is part of our FBC church family and even those who are not part of our church family to consider volunteering for this community event," Silvey said.
"There will be a variety of ways to help – from building and cleaning work, to preparing, serving and delivering meals, to helping with thrift store ministries and even building beds for children. children who need it. We will also need team leaders to help guide each team.
There are opportunities to work together in groups or as a family unit. And everyone is welcome. The aim is to have 200-250 volunteers sharing the love of Christ across Kingsport that Saturday.
Volunteers from First Baptist Church Kingsport will join others who volunteer to serve together at the one-day ministry event at various sites in the Kingsport area. The growing list of projects includes Food Ministries at Kitchen of Hope, Salvation Army, Second Harvest Food Bank, Gibsontown Ministries and Meals on Wheels; building and cleaning ministries benefiting Sleep in Heavenly Peace, Salvation Army Shelter, Friends in Need, Kingsport Homeless Ministry, Family Promise and more; thrift store ministries at Habitat ReStore and Mission Agape; and various social support and prayer team ministries.
The day will begin with breakfast and devotional reflection in the church communion hall. The groups will then disperse to the various project sites. You can find more information and a registration form at www.fbckpt.org/acts-of-love.