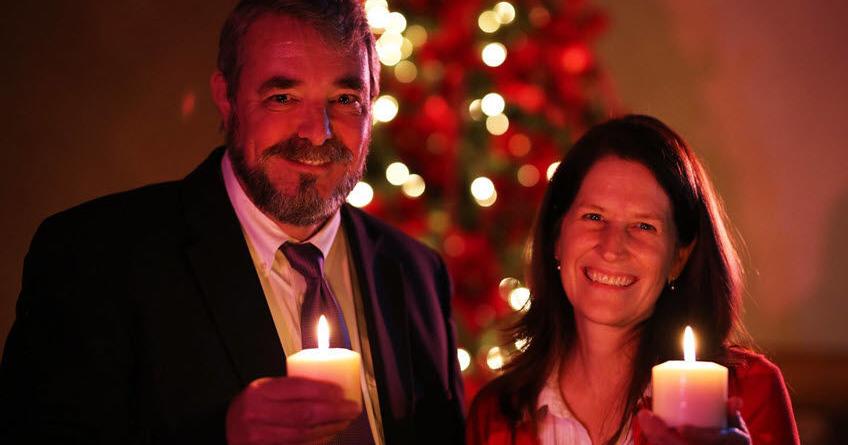 INDIAN TRAIL – Pastor Scott Ireland of Stallings United Methodist Church and his wife Patti will lead the annual Indian Trail Christmas Parade as Grand Marshal on December 5.
Ireland has been the pastor of Stallings United Methodist Church for the past nine years and has spent the past 25 years in ministry. The Indian Trail City Council chose Ireland to serve as Grand Marshal because of their dedication to their church and community, and their leadership of the annual Back2School Bash.
The Back2School Bash, now entering its eighth grade, provides 1,500 children in Union County each year with free school supplies, backpacks, a new pair of shoes and eye exams through the Indian Trail Lions Club. Ireland said the most memorable part of the Back2School Bash is when they wash children's feet; he said physical connection can help sow a seed of hope.
Ireland originally came up with the idea after attending a similar event in Mooresville in an attempt to find a way to collaborate with other churches to do something in the community. For the first two years, the event took place at the Extreme Ice Center and has since been held at Carolina Courts in Indian Trail. The event is supported by corporate sponsors and community donations.
In addition to its work with Back2School Bash, Stallings United Methodist Church also works closely with Common Heart and hosts a monthly food drive that generates enough food to fill at least two van beds. The Church also hopes to restart its Shepard's Table program in the future, which offers all who wish a hot meal in the communion hall. The program has been suspended due to COVID.
"I am touched and honored to have been chosen as Grand Marshal for this year's Christmas Parade," Ireland said in a press release. "It gives me the chance to highlight the amazing people, churches, businesses and organizations that I have the privilege to work with to make Back2School Bash and our other ministries such a success. We do so much more when we come together for a common good. There are so many energetic and innovative leaders in our community who have been called to give back. Without them, none of this would be possible, and I am fortunate to be a part of it. "
The Christmas parade will begin at 4 p.m. from Post Office Drive. The tanks will descend Indian Trail Road, turning right onto Matthews-Indian Trail Road before bypassing Chestnut Square Park.
"The Christmas Parade is the perfect way to start the vacation, with so many seasonal and family-friendly activities available in one place," said Hayden Kramer, director of parks and recreation for Indian Trail, in the statement. "Santa Claus told us it was one of his favorite events, and this year is shaping up to be the best yet. Thanks to Pastor Ireland for leading the parade as Grand Marshal.
The festivities will continue at Chestnut Square Park after the parade, including s'mores and hot chocolate with Santa and Mrs. Claus, crafts and free games.
The evening will be crowned with the official lighting of the Indian Trail Christmas tree. Everyone is welcome to attend.