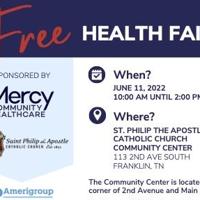 Mercy Community Healthcare and St. Philip the Apostle Catholic Church will be sponsoring a free health fair at Franklin Church on June 11.
Some of the services that will be offered at the fair include mammograms; pregnancy tests and ultrasounds; blood sugar, A1c and blood pressure tests; free diaper packs; vision screening for children; hearing test; assistance in finding health insurance; and learning sessions on Medicaid options, falls prevention training and more.
For those interested in a mammogram at the fair, make an appointment in advance by calling 615-790-0567, Ext. 235.
"We are excited to bring our community health fair to the community and invite everyone to experience Mercy Community Healthcare on June 11," said Beth Ann Wilmore, Mercy's Director of Nursing. "If you don't have a primary care provider, it's a great way to find housing. If you need help with the health insurance market, we can help you navigate the portal. We will also have medical staff on hand to answer questions, screen and test for various conditions.
"At Mercy, we are defined by our ability to provide exceptional care in an integrated way – body, mind, spirit. Come learn more."
The fair will be held from 10 a.m. to 2 p.m. at the St. Philip the Apostle Catholic Church Community Center at 113 Second Ave. S. to Franklin. Participants are asked to park in the garage on Second Avenue.
"Not everyone who struggles to access adequate health care is poor. Many of those who work full time are underinsured or have their conditions not covered. Access to mental health care is particularly difficult," said Reverend Father Edward Steiner, pastor of St. Philip the Apostle Church. "St. Philip Church is partnering with Mercy Community Healthcare because together we can do more than the church could ever do alone.