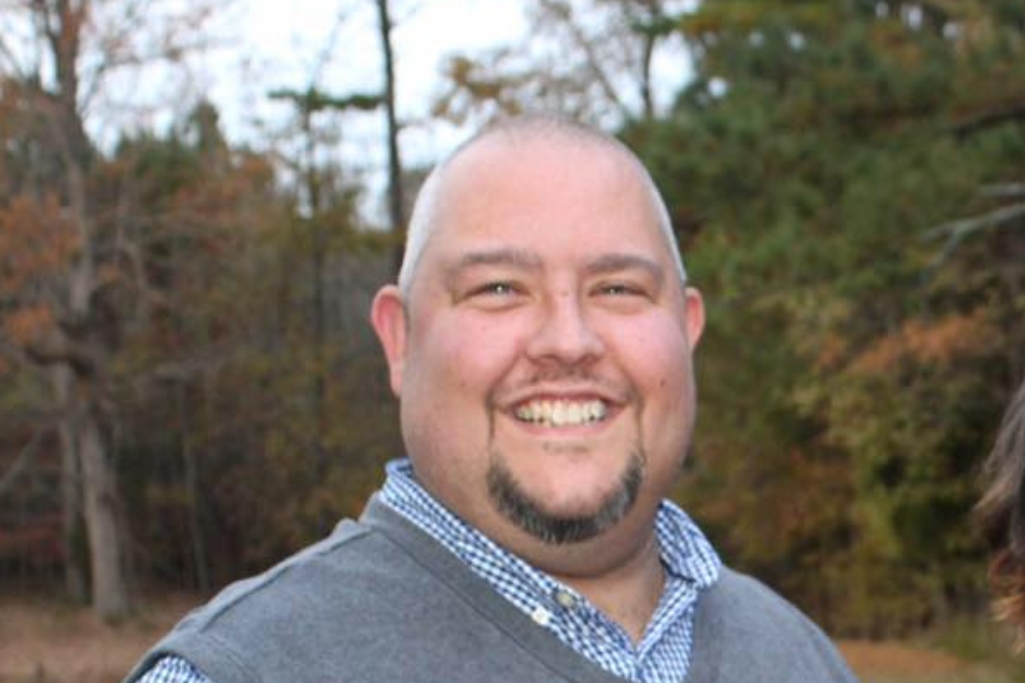 NC Baptists mourn the sudden and unexpected death of a beloved pastor who was active in ministry and community life through a variety of leadership roles.
David Richardson, pastor of Peace's Chapel Baptist Church in Kittrell, North Carolina, died suddenly on September 6 after suffering a pulmonary embolism following an extended hospital stay due to an infection. He was 41 years old.
"My David went to be with Jesus last night and got the ultimate healing we prayed for," Richardson's wife, Becky, wrote in a Sept. 7 Facebook post. "He was able to spend a few hours at home last night before this happened and I was able to be with him before he lost consciousness. He had a pulmonary embolism. He passed away peacefully and I am grateful that he was able to come home even if it was only for a few hours.
A pulmonary embolism is a sudden blockage of an artery in the lung. They are often caused by blood clots that travel through the blood to the lungs.
Richardson had served as pastor of Peace's Chapel Baptist Church since September 2020. Additionally, he was the current chair of the Granville County Schools Board of Education. Richardson was first elected to the school board in 2016 and then re-elected last spring.
Richardson has also served in various leadership positions with the Baptist State Convention of North Carolina. He currently served as chairman of the state convention meetings committee, which plans the annual NC Baptist meeting each year.
In July, Richardson and the committee announced that "On a Mission Together" would be the theme for this year's annual meeting, which is scheduled for Nov. 7-8 in Greensboro, North Carolina.
NC Baptist Executive Director-Treasurer Todd Unzicker describes Richardson as a humble servant of the Lord.
"David served his local church and fellow North Carolina Baptists with infectious humility and joy," Unzicker said. "His presence will be missed by so many, but we are not crying without hope. David loved to point others to his Savior, Jesus, and so this is exactly where we will seek comfort during difficult days. Your NC Baptist staff pray for the Richardson family, Peace's Chapel Baptist Church and all who mourn with them.
Richardson also served two terms as a state convention board member. He first served from 2006 to 2010 and then again from 2016 to 2019. Richardson has also served on the state convention's executive committee and business services committee.
"He was the epitome of a faithful servant," said John Butler, director of operations for the state convention. "No matter what you ask him to do, he says, 'OK.' He had a heart to serve.
Angela Kilby said Richardson was the first person she met after being elected council secretary in 2019.
"I remember his kind, gentle spirit and servant's heart," Kilby said. "During his service as a member of the board of directors and executive committee, he exemplified the heart of God for people and modeled a Christian spirit for others."
Prior to becoming a pastor at Peace's Chapel Baptist Church, Richardson served as associate pastor and church administrator at First Baptist Church in Creedmoor, North Carolina for more than 11 years from March 2008 to June 2019. He served as also twice served as Acting Pastor of First Baptist Creedmoor. .
"He was the best supporter a pastor could have," said James Shellywho served as senior pastor of First Baptist Creedmoor from 2013 to 2018.
Shelley praised Richardson's administrative skills and credited him with helping to expand First Baptist Creedmor's preschool ministry to more than 130 children.
"David was an excellent administrator, planner and resource person," said Shelley. "But even more than that was his heart for missions, evangelism and special projects. He studied the scriptures and loved to dig deep and learn. He was blessed with his wife, Becky, who shared the ideals of his kingdom. Pastors are blessed when they have a companion like Becky.
David Hermann first met Richardson when they were both involved in youth ministry in 2007. Herman, who is now senior pastor of Pleasant Grove Baptist Church in Creedmoor, North Carolina, said it was the start of a "deep friendship" that lasted 15 years. .
"David was a friend of pastors," Herman said. "He was my greatest confidant. We talked about life and ministry almost every day. He was a dear friend and fellow pastor who served in the trenches.
Herman said Richardson has worked together on a variety of missions and ministry efforts through their local Baptist fellowship. Herman said Richardson was a "big fan" of encouraging others to serve in various leadership roles in ministry at the local, regional and state levels.
In addition to his other leadership roles, Richardson was currently treasurer of the Flat River Baptist Association at the time of his death. Over the years, he has served on the finance committee and executive committee of the association, as well as director of discipleship training, vice moderator and moderator of the association.
"David was the glue that held the Flat River Baptist Association together when we were without a DOM (director of missions) for several years," said Gus Gillespiewho became Flat River's Associative Mission Strategist (AMS) in September 2019. "He had institutional knowledge and a willingness to work to do the work that helped us through this season."
Prior to becoming Flat River's AMS, Gillespie worked with Richardson in the local school system. Gillespie retired as associate superintendent of Granville County Schools in 2017, about a year after Richardson was first elected to the school board.
Gillespie said Richardson was highly respected in the community as a pastor and school board member.
"Although he was well known, he was also modest and humble when praised," Gillespie said.
As news of Richardson's death spread, tributes from pastors and other ministry leaders also grew on social media.
NC Baptist President Michael Parduepastor of First Baptist Church Icard in Connelly Springs, North Carolina, called Richardson "a faithful pastor and friend."
"David Richardson will be greatly missed," Pardue said in a statement to the Bible Recorder. "He was a caring pastor, a thoughtful congress leader and a humble public servant in his community. I appreciated the constant encouragement he gave me over the past two years as we served North Carolina Baptists together. He had become a true friend.
Pardue and Unzicker were among several North Carolina Baptist leaders who preached at a revival conference Richardson hosted at Peace's Chapel Baptist Church last spring. The revival also included Seth BrownNC Baptist Director of Convention Relations, and Jordan Willardpastor of First Baptist Church in Weddington, North Carolina
"It pains me to talk about David in the past tense," Willard wrote in a Facebook post. "But I will always remember David as a kind, gentle, and loving disciple of Christ, a devoted husband, a strong leader in church and community, and a faithful preacher of the gospel.
"The world needs more David Richardson, but heaven is richer now that he is home."
(EDITOR'S NOTE – This story will be updated with information about Richardson's memorial service. Chad Austin is editor of the Biblical recorder.)