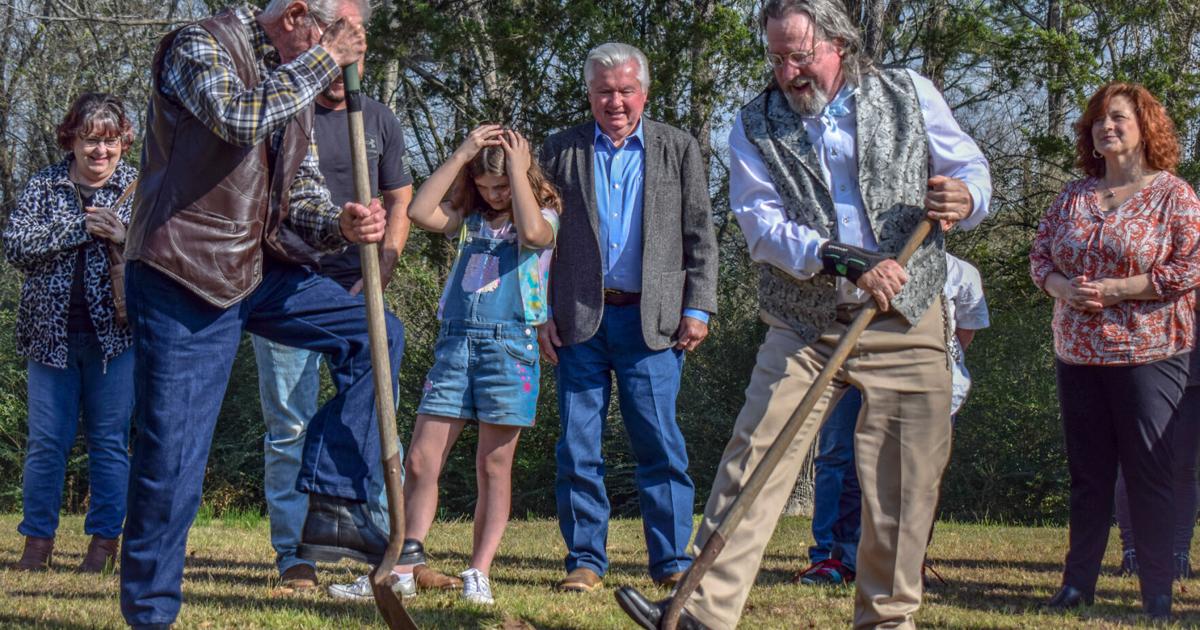 [ad_1]
Members of Starrville Methodist Church cried and shared hugs as they gathered in the same spot where their pastor was shot and killed last year.
After a Sunday memorial service in honor of the late Pastor Mark Allen McWilliams, church members unveiled a tree that will be planted in his honor.
On January 3, 2021, McWilliams was preparing for church service this Sunday morning when he was fatally shot by his own pistol, which had been snatched from him by a suspect who had been hiding from police inside the Winona church at night.
A little over a year later, the church, which has remained open, gathered for the anniversary of the "unimaginable tragedy".
Linda Parrott, a member of the church for just over a year, received many heartfelt hugs during the service. She said she was on her way to church the day McWilliams was shot. After hearing what happened and seeing police vehicles outside, she said she was in disbelief and shocked.
"I came home and… I was just crying," Parrott said. She contacted her friend and the pastor's wife, Rosemary McWilliams, who she said couldn't think of anything to do.
"[Rosemary] said she couldn't come back to this church because of what had happened. … She's going through a very, very difficult time with this, "Parrott said.
The late pastor was first buried in Winona Cemetery, but has since been moved to Frankston to be closer to his wife's visit.
"I remember the last words he said from behind the pulpit: 'Maybe I might not even be here next Sunday.' I don't know if he had a premonition or what. He always encouraged us to pray, "Parrott said.
She said what happened was a tragedy, but thinking about where he is now in Heaven brings positivity. However, she said she took her pastor's death very hard.
"My husband [Billy] and I both just loved him and love Rosemary, "Parrott said with tears in his eyes." There are no special words I can give you that would truly describe what a man of God he was. "
A year later, the church now has a new leadership. On the first Sunday in March last year, Paul Bolding stepped in to fill the role of the late pastor after visiting several times to help with music and preaching. He said the number of people attending church has not been affected because of what has happened, but COVID-19 has been. There are currently around 40 members participating.
"Rosemary walked in here two days after watching her husband die and she said that," Bolding said, reading a statement Rosemary made at the funeral service last year.
You said, 'I will take what the enemy has meant for bad for good,' and I hope you turn it for good for this church, for the community, for the churches across the country, for the Christianity, for the next generation. Lord, you are so good, "were the words of Rosemary McWilliams at her husband's funeral.
During Sunday's memorial service, a church member stood at the front door to greet those who entered. Since the tragedy that occurred on the church grounds, Bolding has said the members of the congregation are very close and tight-knit, possibly because of what happened, he said. .
"The moment Mark stood there and the bullets started to pierce his skin, God said he was transformed into the image of God faster," Bolding told the congregation in his sermon.
"Immediately, when his heart stopped, he was with the Lord. Unimaginable. Unimaginable tragedy. But God is so thorough, he made a way to the smallest detail. Mark praises God with all his heart, free from everything clutter whatsoever. Now is having a glimpse of what eternity will be like, "he said.
Bolding said there was a forgiveness service last year, where everyone in church was able to walk through forgiveness if they wanted. He said they continue to forgive.
"We believe that the light of Christ overcomes darkness. They were very dark days. Last year, the third, was a very dark day, but all the people who were there that day have already proven that the light of God overcomes darkness, and it can happen anywhere if you just walk in with Jesus into the dark. light and come out of darkness, "Bolding said.
The tree that will be planted in honor of McWilliams is a donation from Breedlove Nursery and is an October Glory Maple that turns orange and bright red in the fall. The tree will grow 40 to 50 feet, Bolding said, and will be evidence of new life, which he called God's plan. After clearing the ground where the tree will be planted, the congregation sang "Amazing Grace" and said a prayer.
[ad_2]