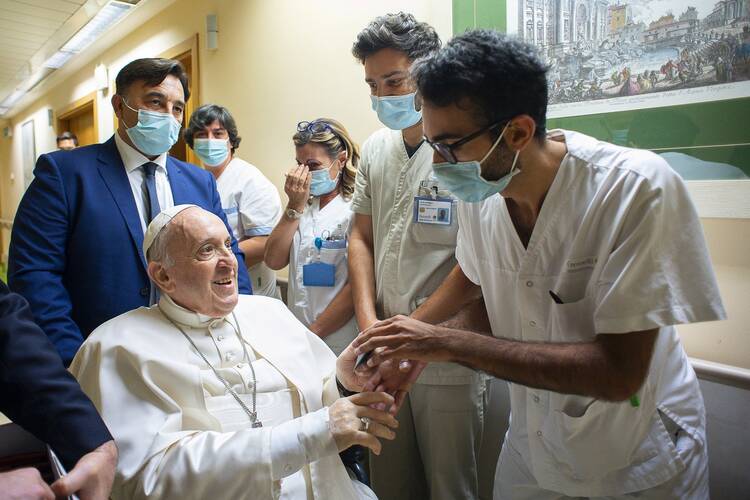 This week on "Inside the Vatican," host Colleen Dulle and Vatican correspondent Gerard O'Connell reflect on this year in Vatican News.
This year has brought three risky papal trips to Iraq, Hungary and Slovakia, as well as Cyprus and Greece, all undertaken during the Covid-19 pandemic. Meanwhile, Pope Francis' health was in question when he underwent surgery on his colon in mid-July. Gerry recaps the Pope's travels and takes stock of his recovery.
[Listen and subscribe to "Inside the Vatican" on Apple Podcasts and Spotify.]
At the Vatican, the Pope continued his reform efforts: this year saw the opening of the Vatican's first-ever trial of a cardinal for financial crimes, and Pope Francis opened the "World Synod on Synodality" with the aim of to bring the Church towards greater collaboration between leaders and laity.
Looking across the Atlantic, the Pope intervened in the US Bishops' Communion debate for pro-choice politicians, telling Gerry on the papal plane that he had never refused communion with no one. Colleen and Gerry recap the story and look at where the Vatican would like to see American Bishops go from here.
Show links:
Pope Francis in Iraq: Everything You Need to Know About Historic Travel
What to expect from Pope Francis' trip to Hungary and Slovakia
Pope Francis is set to visit Greece and Cyprus – and he is expected to invite around 50 migrants to come to Rome
Pope Francis returns to Vatican 10 days after successful operation
In historic first, cardinal tried in Vatican for involvement in real estate scandal
Podcast: Synod on Synodality will be an uphill battle, but it's worth it
Eucharist debate and pro-choice politicians ends with moan at bishops meeting