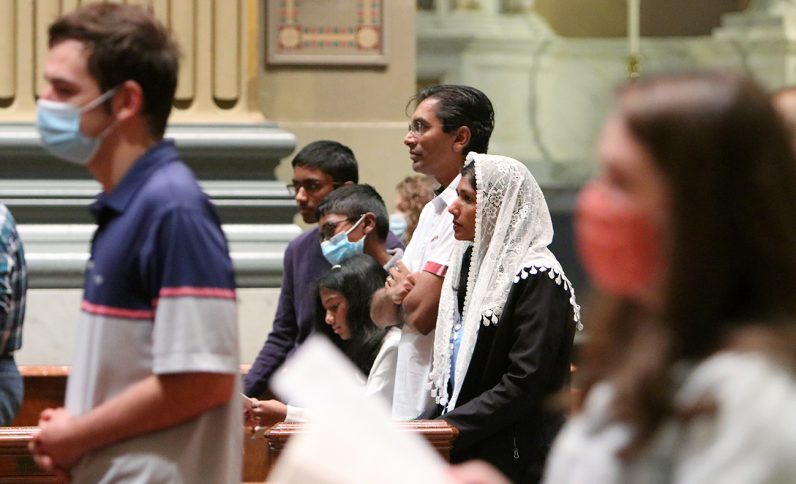 [ad_1]
By Gina Christian • Posted on September 29, 2021
Those who argue in defense of human life are "lights in the middle" of obscure human history, Archbishop Nelson Pérez said.
On September 26, the Archbishop was the celebrant and principal homilist of the 2021 Respect Life Archdiocese Mass at the SS Cathedral Basilica. Peter and Paul. Sponsored by the Archdiocesan Office for Life and Family, the liturgy – which drew some 300 attendees – included Respect for Life Month, an annual initiative of American bishops observed each October to promote human dignity from conception to birth. natural death.
The effort dates back to 1972, just before the United States Supreme Court rulings on Roe v. Wade and Doe v. Bolton, the two 1973 decisions that to date have resulted in over 61 million abortions in the United States, an average of 2,000 per day.
Globally, there are a total of some 73.3 million abortions each year, according to the Guttmacher Institute – a number at least five million more than the UK's current population, and nearly 15 million. more than the United Nations crude death rate in 2019, or the total number of deaths worldwide in any given year.
These figures, which average "nearly a million abortions per year" in the United States, show that "life has become cheap" following the legalization of abortion, said Bishop Pérez in his homily. .
Despite huge technological advances, he said, future generations "will look at our moment in history and say, 'They have truly lost respect for life.'
The recent gun violence crisis in Philadelphia underscores such contempt, the Archbishop said.
To date, the city has recorded 407 homicides, up 18% from 2020, with 354 fatalities and nearly 1,390 non-fatal.
While "all kinds of sociological issues" contribute to the problem, the "short answer is that we have lost respect for life, and it really started when we started to lose respect for life in the womb", said Bishop Pérez. "Because if we could do it there, we could do it elsewhere. It sets the tone. "
At the same time, "people of good will and people whose hearts are in the right place … many of them are people of faith" have defended "the sanctity of life, from conception to death. natural, "he said. "And it will be a light in the midst of the shadows of our history."
Several pro-life activists were present for the liturgy, including Steven Bozza, director of the Archdiocesan Office for Life and Family; the Sisters of Life, who subsequently sponsored a brunch; Judith Secoda, Development Manager of the Legacy of Life Foundation, a non-profit organization that provides comprehensive alternatives to abortion for women in crisis of pregnancy; Pat Stanton, board member of the Greater Philadelphia Pro-Life Union; and Dr. Monique Ruberu, a Philadelphia-area obstetrician and gynecologist who founded Sidewalk Servants and serves on the national board of the 40 Days for Life International Campaign.
In her pre-Mass remarks, Secoda said that "an average of 900 women walk through the doors (of the foundation) each year, seeking an abortion because they feel abandoned and helpless."
The pandemic has left women in pregnancy crisis "to feel more lonely and more desperate than ever," she said.
In response, the foundation is seeking to raise $ 10,000 to provide 100 women with free support services, which include counseling, ultrasound and life skills training for three years.
Last year, cathedral parishioners raised funds to "save nearly 300 babies," Secoda said.
Awareness, coupled with prayer, can dramatically reduce the number of abortions, said Dr Ruberu, who recounted a recent sidewalk vigil in which a lone volunteer, quietly praying, saw four women turn away from the entrance to the Philadelphia Women's Center, which annually hosts more than 6,400 abortions.
While the centre's slogan boasts "abortions are all we do," said Dr Ruberu, its clients are largely unaware that "this beautiful, innocent life … in a mother's womb … is so precious, so blessed, so worthy to be fought "- or that they themselves have other options.
"Often these poor women enter these places purely out of fear," she said. "Fear of not having the resources, the community; fear that their education will be finished, fear that the father will leave them. This is where we come in.
Volunteers are experiencing "heightened animosity" from clinic staff and patient attendants, following the recent passage of a new "heartbeat law" in Texas, Stanton said.
"You have to put on the armor of God to be present in the clinics," he said.
The faithful "must increase (their) efforts of prayer, fasting and good words to restore protection to unborn children," said Father Dennis Gill, rector of the cathedral and director of the Archdiocesan Office for Divine Worship.
Quoting Pope Francis, the Archbishop said that "the defense of life is not an ideology for the church", but rather "always manifests in a person in flesh and blood".
[ad_2]