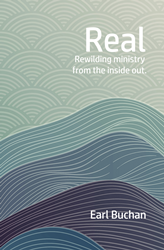 It is a book about building up the person, you, me, those of us who know we are called to a kingdom life. Real, is a book about the redevelopment of the ministry from the inside out.

WINNIPEG, MB (PRWEB)
September 14, 2022
Book launch!
Earl Buchan, pastor and church planter, shares his encouragement for anyone who looks around and thinks "there must be more to it." It all begins with a fearless search of our hearts to rekindle the ministry from the inside out.
He turns to the Bible and over twenty years of church experience to share his own successes and failures in sharing wisdom, warnings and reminders of why we are meant to be in Christ. Earl shares that it all starts with us, live a life of openness and it will change the atmosphere in our churches and in our homes.
As you read, you will get answers to questions such as:

What can you really expect when you enter the ministry?

Why is it so important to be authentic in all circumstances?

What are the costs of living one's will, one's way?

How can we push ourselves so that people see more of Jesus and less of us?
This trip is not for the faint of heart, or those who are full of themselves. The author has been both, and he shares how the Lord reseeded his own heart to reveal the beauty of a called life.
About the Author

Earl Buchan is the senior pastor of a Calvary chapel called Radiant Church in Winnipeg, Manitoba, Canada.
A church planter and adventurer, he has spent his life in various forms of ministry. The calling he pursued led him to sidewalk evangelism, missions, soup kitchens, discipleship, teaching, and leading his church. He is husband, father, grandfather and brother to many.
###
Share the article on social networks or by e-mail: