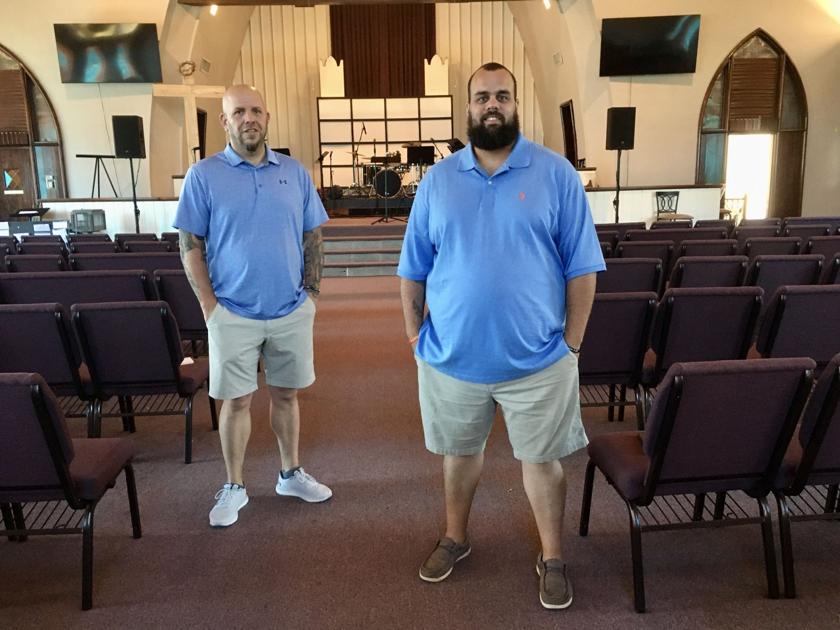 [ad_1]
For over 100 years, 102 W. 23rd St. housed the Buena Vista Baptist Church.
But in late September, the $ 3.131 million property and its assets were donated by the remaining members of Buena Vista to Matthew's Table.
According to the Daviess County Property Assessment Administrator's Office, the 25,469-square-foot brick church sits on a 312 x 138-foot lot, which equates to just under an acre. .
Co-pastors Roger Chilton and Nick Martin run Matthew's Table, a non-denominational church that began five years ago as a small gathering of believers renting space at the Owensboro-Daviess County Senior Community Center at 1650 W. 2nd St.
"For us it's really a matter of faith," Chilton said of how far they've come as a church body. "You don't hear much about it anymore."
Chilton and Martin were attending Pleasant Valley Community Church when they decided to plant their own church.
"We were in a big church; we didn't leave because we were unhappy; we were in order; they liked us and taught us well, "said Chilton. "We just felt a call to do something unique, and that was going to be to come out in the faith."
In May 2017, Matthew's Table held its first service at the senior center, with the closest friends of Martin and Chilton and family members making up the majority of the congregation.
"We would have had maybe 20 to 25 people there that first Sunday," Chilton said. "We had nothing; we didn't even have a microphone. … Honestly, I don't think our idea was that we wanted to develop a big church. … We just wanted to be a church reaching people who usually weren't reached for some reason.
In addition to accommodation services at the senior center, Matthew's Table transferred his ministry to the Daviess Count Detention Center and motel parking lots.
In a sense, Martin said Matthew's Table was a mobile church because renting space at the senior center meant all equipment had to be removed after Sunday and Wednesday services.
"We always say we want to reach like-minded people rather than like-minded people," Martin said. "… And because we didn't start with your typical building, it was easier for us to go do a Cadillac (Motel) service outside or at the jail. We were so used to setting up and taking down that we could tell people we wouldn't be here (at the senior center); we are going to have service at the prison.
But even though Matthew's Table increased attendance, his ministry was limited by the fact that he had no space of its own.
Chilton and Martin both said senior center officials were "gracious" while there, but they realized they needed their own building to accommodate the growing congregation and the various ministries.
"… Near the end of three years, before Christmas in 2019, we had people standing in the back and sitting in the hallways because we were packed," Chilton said. "We started to try to figure out what we were going to do."
Before Buena Vista became an option, Chilton and Martin said they envisioned at least 10 buildings that never came to fruition.
It was at the end of March 2020 that Matthew's Table received an unexpected call from Buena Vista regarding the rental of the main sanctuary of the church.
And with the onset of the COVID-19 pandemic, there was uncertainty as to where Matthew's Table would meet.
"It came at the perfect time because we weren't sure what the senior center was even going to allow with the ongoing pandemic," Martin said. "… And one of the interesting things about it is that we started praying, 'God let us know which way to go', and they started praying, 'God is sending us someone we can. pass this on. ' "
On the occasion of its third anniversary as a church, Matthew's Table held its first service at Buena Vista, which was virtual, on May 7, 2020.
Before the pandemic, attendance at Buena Vista had already declined, but even less returned when in-person services were authorized later in the year.
Sam Bruntz, a deacon from Buena Vista who had been a member since 1986, said the church flourished when it started, but declined as its members got older.
"In its heyday, it had an attendance that Matthew's Table does now, but it has declined over the years," Bruntz said. "… We had gone down to 20 to 25 in the service. Once COVID hit, about 10 of those families also left. We had this huge facility here in Buena Vista, and 20 people just can't handle it properly. Matthew's Table is growing like gangbusters, so we said, "Lord, maybe you want them here in the heart of town." They are better equipped than us to manage this place.
As part of the deal, the remaining members of Buena Vista will meet in the basement on Sunday. Reverend Tom Pelphrey is the pastor.
Bruntz said the remaining members voted unanimously to offer the property to Matthew's Table.
"Even before Matthew's Table got involved, the church was looking for a way for this campus to still serve the Lord," said Bruntz. "… I am delighted that Matthew's Table is running the place to its full capacity." "
Matthew's Table now attracts over 400 people every Sunday. The church hosts two Sunday services – 8:30 a.m. and 10:45 a.m. – and one Wednesday evening service that begins at 6 p.m.
On Saturdays, Matthew's Table does outreach ministries. On the first Saturday of the month, the church's Show Love team takes up a mobile concession stand in a neighborhood and distributes food and drink; the second Saturday, the church opens its pantry; the third Saturday the church gives out free bus passes and the fourth Saturday is a community breakfast at the church.
For Chilton, he can only credit "God's greatest plan" for how far Matthew's Table has come over the past five years.
Chilton said neither he nor Martin had the appropriate background or experience that an established church would have wanted.
"No one else would have chosen us, but God did," said Chilton. "… And there is no other explanation for this than God. "
[ad_2]