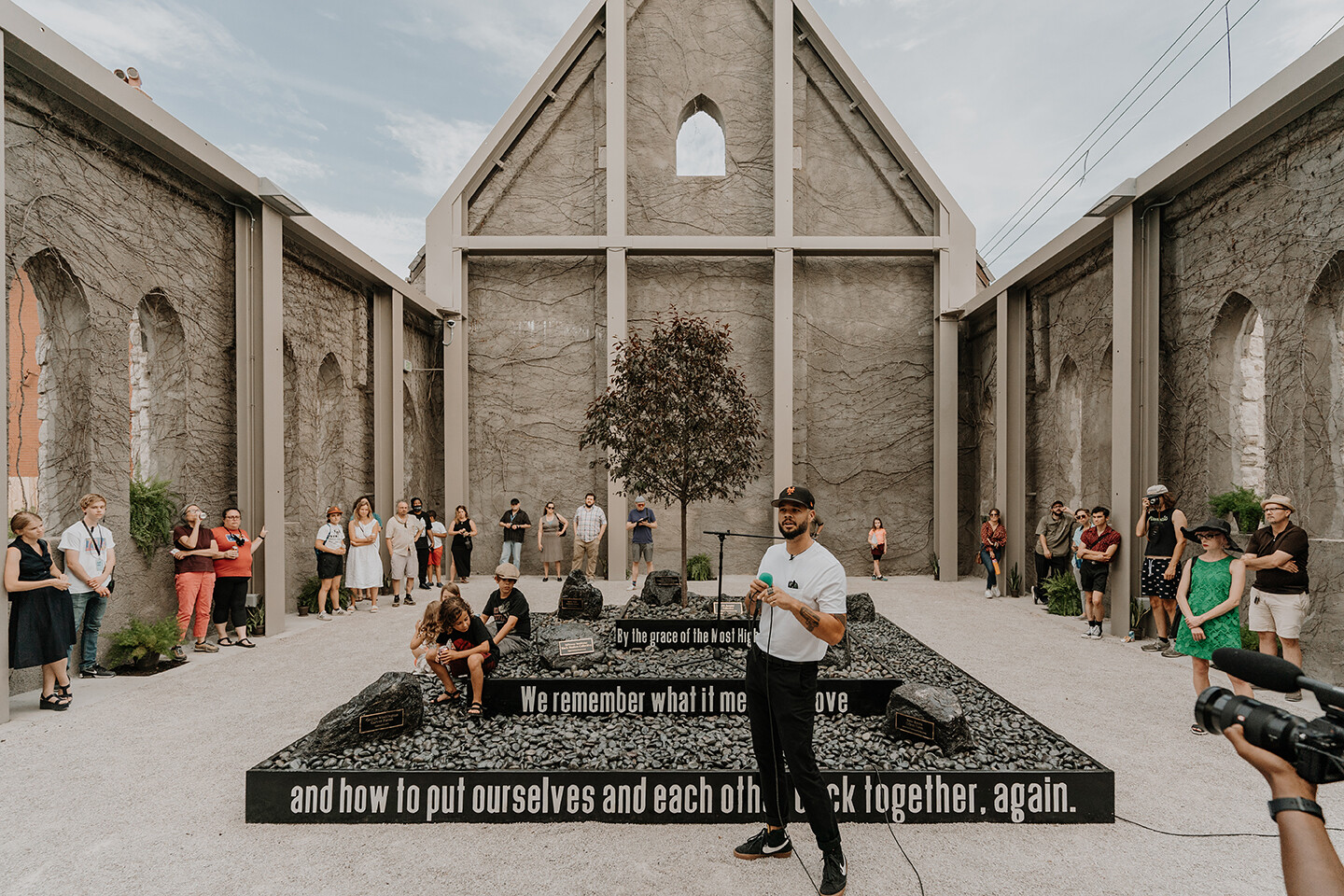 Spring Church: an outdoor space for art and community
Opening: October 8
The Church of Spring

620 Spring Avenue North

St. Louis, Missouri 63108
United States
Opening, October 8
The Pulitzer Arts Foundation in St. Louis, Missouri has opened Spring Church, a new outdoor public space for artists' projects and community gatherings, located in the ruins of a nearby church. The neo-Gothic style building had been destroyed by fire in 2001, leaving only its architectural shell still standing. Over the past twenty years, the remaining structure has become a beloved community landmark and the site of impromptu gatherings and other events.
Improvements to the church began in 2020 with the aim of stabilizing the structure while retaining its architectural character. The design was undertaken by St. Louis-based Kiku Obata & Company and McNealey Engineering, Inc.
The church, which has no roof, remains open to the sky, maintaining a feature that has helped make the building an iconic site in the neighborhood. Updates include accessible trails, masonry repairs, and new electrical and lighting infrastructure, among other improvements. In addition to the church, the initiative also encompasses an adjacent lot which has undergone improvements and will remain a publicly accessible green space. Designed by Studio Land Arts, of Granite City, Illinois, this space features seating and plants, incorporating architectural elements from an older building that were unearthed during construction.
The Church of Spring opened earlier this month with an installation by multidisciplinary artist and activist Jordan Weber. Entitled All our releases, the installation featured a three-tiered sculpture that was used as a centerpiece for programs and events, activating the space for community learning, reflection and healing. In April 2023, Weber will expand All our releases as part of Counterpublic, a St. Louis-wide arts triennial. The project will be curated by Diya Vij, Associate Curator at Creative Time.
Pulitzer's transformation of the Church of the Spring follows that of Park-Like, a sustainably designed green space located across from the museum. Like Park-Like, Church of the Spring will be open daily, free of charge, from sunrise to sunset. Pulitzer Executive Director Cara Starke notes, "The Pulitzer is deeply committed to contributing to our neighborhood, expanding the Foundation visitor experience to include not only the museum at its heart, but also Park-Like and now Spring Church. We look forward to welcoming our neighbors and visitors, whether to spend time in the space at their leisure or to experience public art in the unique architecture of Spring Church.
The opening celebration on October 8 includes a performance with the InUnison Choir of the St. Louis Symphony Orchestra and guided tours. Other partnerships and projects will be announced this fall.