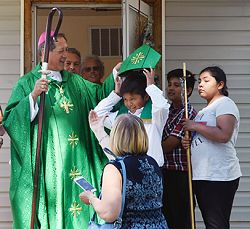 [ad_1]
Friday July 23, 2021
IC file photo
+ Expand
Bishop Oscar A. Solis, shown here with youth from St. Kateri Tekakwitha Mission in a 2019 photo, is the chief catechist for Catholics in Utah.
Susan northway
[A reflection based on material from the Directory for Catechesis (USCCB, 2020 p. 75-76.)]
"The bishop is the first preacher of the gospel by his words and by the testimony of his life. – Saint Pope John Paul II, October 16, 2003
The role of a bishop includes preaching the gospel and ministering to his people as the chief catechist of the diocese. The Most Reverend Oscar A. Solis, DD, 10th Bishop of Salt Lake City, testifies of the faith and transmits it to God's people in Utah. It presents reflections on the Word of God in many contexts. He offers his life as an example to others. Her message stems from her love for Christ and her compassion for God's people in Utah.
As chief catechist, Bishop Solis receives help from the diocesan offices for catechetical planning. Occasionally, bishops may seek the expertise of theologians, master catechists, and psychology and human formation consultants. One of the jobs of a bishop is to make sure that those who teach the Catholic faith are well prepared for the job. He recognizes that effective preparation often involves collaboration with training experts. Our bishop calls on talented instructors from the Congar Institute for Ministry Formation in San Antonio, Texas. Their priests, religious and lay ministers assist our catechetical leaders as speakers and workshop leaders during the annual pastoral congress of the Diocese of Salt Lake City. Bishop Solis supports the development of the faith by demanding advanced training courses for the laity who serve our parishes and missions as master catechists.
A bishop ensures that the gospel message is faithfully proclaimed. Because the faith is transmitted through the process of inculturation, a bishop must become familiar with the different cultures present in the diocese. To do this, Bishop Solis makes frequent pastoral visits to parishes, missions and stations across the vast territory of Utah. By listening to the people of God, he discovers more of their catechetical needs and ensures that the various cultures have access to an effective teaching and proclamation of the Catholic faith.
Fulfilling their role as Chief Catechists, our Utah Bishops have developed specific goals for faith formation in Utah. By studying demographic research and engaging in broad consultation with clergy and laity, Bishop John C. Wester, ninth bishop of Salt Lake City and now Archbishop of Santa Fe, formulated catechetical goals based on current needs and future of the diocese. In this process, he encouraged the development of the formation program for the ecclesial ministry of lay diocesans.
Continuing the work of his predecessor, Bishop Solis now takes decisions on the formation of faith in fidelity to the diocesan pastoral plan which he promulgated and which he now supervises. As chief catechist, he supports local parish projects based on a vision that aligns with the catechetical guidance offered by the United States Conference of Catholic Bishops.
the Directory for catechesis (USCCB, 2020) emphasizes that a bishop must have a "real passion" for catechesis. During pastoral visits, Bishop Solis observes how a local parish provides training in the faith and, if necessary, directs staff and financial resources to assist local teaching ministries.
For many years our bishops have advocated the training of catechists with skills and adequate knowledge of the teachings of the Church. I asked our Vicar General Emeritus, Monsignor J. Terrence Fitzgerald, about the catechetical heritage of some of our bishops in Utah. He replied: "Bishop Duane G. Hunt (fifth bishop of Salt Lake) was a master teacher, having been professor of communication at the University of Utah before his conversion to Catholicism and his eventual ordination as a priest and then bishop. . He has had a weekly KSL radio show, explaining the teachings of the Catholic faith, for many years. He was a renowned preacher and teacher, called to speak on behalf of American bishops on occasion. (Like the inauguration of the United Nations in San Francisco). His catechetical homilies were published from time to time in pamphlets. As with other bishops, his confirmation homilies were very catechetical in nature. "
In the 1960s, shortly after Vatican Council II, Most Reverend Joseph L. Federal, the sixth bishop of Salt Lake City, founded the Annual Diocesan Congress. Today he continues to help catechists, clergy and interested adults to develop their skills under the enthusiastic leadership of Bishop Solis.
"Mgr. Fitzgerald said. "Bishop Federal also opened the Diocesan Resource Center where the catechetical material he approved was made available to parishes. "
A bishop sets an example for teachers of the faith. He is a master catechist who promotes continuing education and advances the understanding of good practice in educational psychology. His preaching, his catechesis and his personal witness shape effective teaching methods. Fluent in Spanish, Bishop William K. Weigand, Seventh Bishop of Salt Lake City and Bishop Emeritus of Sacramento, recognized and responded to the growing need for evangelism and catechesis in Spanish in the diocese. He encouraged parishes and missions to offer religious education and liturgies in Spanish and Vietnamese so that all of God's people can participate fully in the life of the Church. "Likewise, Bishop Weigand has sent members of the clergy to study Spanish to facilitate their support for the growing Hispanic population," said Mgr. Fitzgerald said.
Most Reverend George H. Niederauer, Ph.D, eighth Bishop of Salt Lake City and Archbishop Emeritus of San Francisco, was a master catechist who occasionally shared his scientific knowledge of American literature with students of Saint Joseph, Judge Memorial, and Juan Diego. Catholic high schools. He had a great facility with words. As a faculty member, I remember hearing his deep faith shared beautifully with a class of JDCHS seniors who were analyzing short stories from a famous Catholic author.
A bishop testifies of the gospel by his actions on his behalf. Bishop Solis ensures that catechists use approved textbooks and other teaching materials that are written and reviewed by experienced religious educators in consultation with respected theologians. It ensures the permanent formation of the laity through the program of ecclesial ministry of the laity. As the head of our faith, he designates special times for catechesis during the liturgical year. With his advocacy and promotion of the Congress, his retreats during Advent and Lent and his support for the RCIA program, Bishop Solis continues to lead and inspire our catechists.
Susan Northway is director of the Office of Faith Formation for the Diocese of Salt Lake City.
[ad_2]