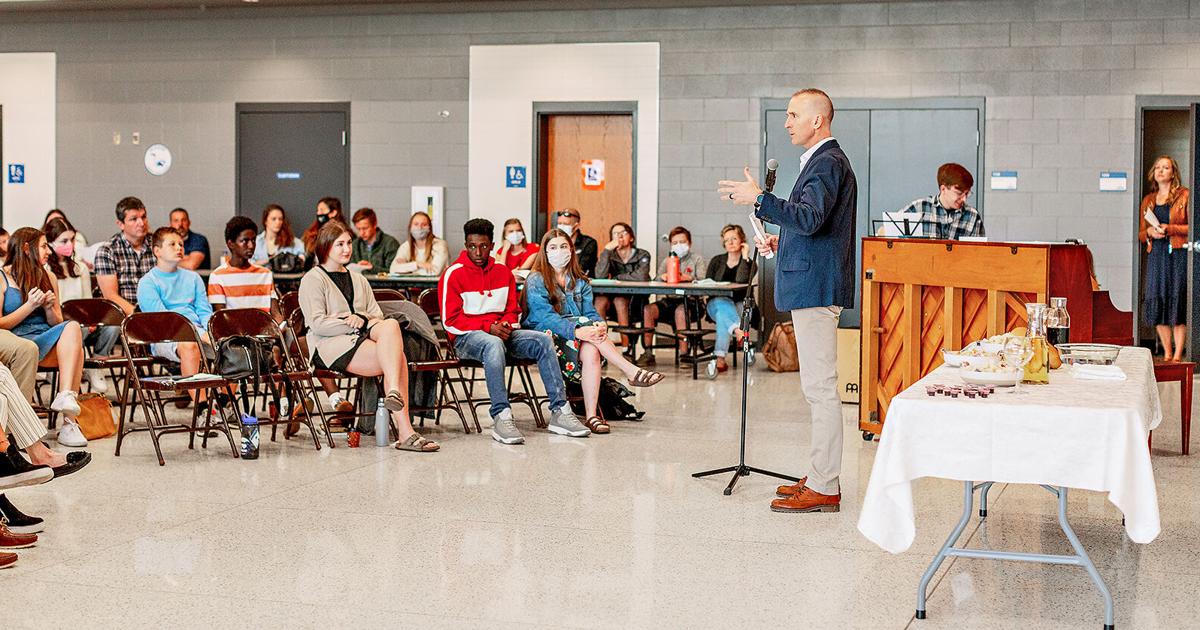 SIOUX CENTER—A week ago on Sunday, children waved palm branches as they walked past rows of people seated in chairs set up in the cafeteria at Kinsey Elementary School.
They formed a single file in front of the Good Shepherd congregation, continuing to wave their palm branches and shout "Hosanna, Hosanna, Hosanna in the Most High" to the jubilation of the congregation.
Palm Sunday marked a week after the first anniversary of the Sioux Center's new church, Good Shepherd, led by Reverend Travis Else of the Sioux Center.
In the spring of 2021, a number of Sioux Center families came together with a desire to start something new. Nearly 150 people attended the informal meeting led by Pastor Else, Mark Hulshof and other steering committee members. Shortly after, the first Good Shepherd church service was held.
According to its website, "After a year of pandemic-related disruption, denominational upheaval, and what we thought was Holy Spirit-fueled discontent, the Church of the Good Shepherd was born. Our hope was to create an intentional community of simple, Christ-centered, Holy Spirit-led, historically grounded Christian worship, mission and service, committed to representing the kingdom of God and blessing our wider community.
"The first time we met was like sending out invitations to a party not knowing who was going to show up," said Hulshof, who is also the vice principal of Sioux Center High School and the school district's athletic director. He and his wife, Jill, a teacher at Sioux Center Middle School, attend with their two sons Ty and Reed. Jill is an elder on the church board.
Looking for a church building, Hulshof said, "We didn't know where to worship, we just knew we had a group of people who were looking for something different.
The steering committee settled on Kinsey Elementary, where the church still worships. The 10 ha Sunday service is held in the cafeteria and the classrooms are used for Sunday school after the service.
The first church service was held using folding chairs, and although the chairs have faced four different walls over the past year, the folding chairs and structure of the Good Shepherd have remained the same.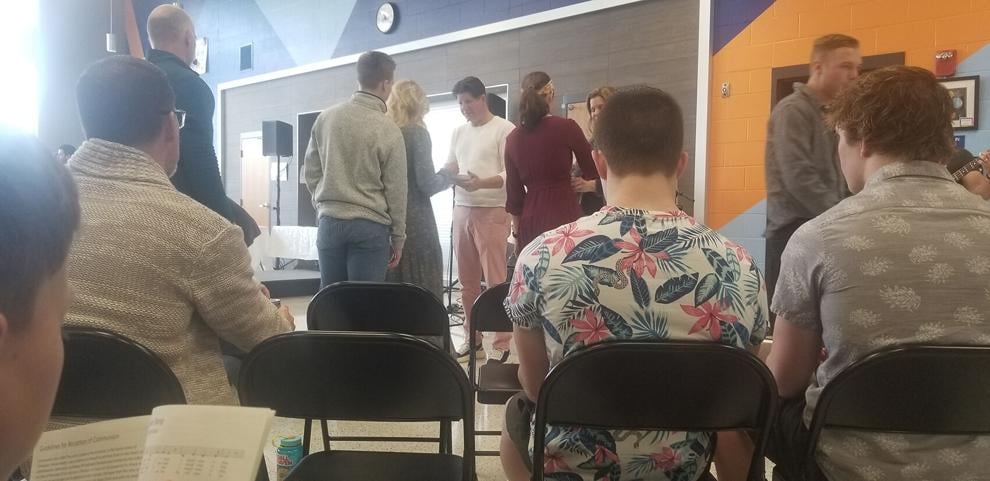 The Church of the Good Shepherd is liturgical. Each member of the congregation actively participates with a 16-page pamphlet that includes the structure of the day's church service: call and response readings, prayers, music, scripture, and the Apostles' Creed. The church body also comes to the table every Sunday to participate in communion.
Before Communion began on April 10, the congregation pronounced the Apostles' Creed in unison. After a prayer, they recited the Our Father in unison. Then they sang "Sanctus," preparing to feast at the Lord's Table.
Pastor Else broke a loaf of bread and recited the words of Jesus at the Last Supper:
"On the night he was betrayed our Lord Jesus Christ took bread, and after giving thanks he broke it and gave it to his disciples, saying, 'Take and eat; this is my body given for you.
Else picked up a cup and poured her juice into another cup.
"This cup is the new covenant in my blood: do it every time you drink it in remembrance of me," Else said.
Afterwards, the elders and deacons came forward to prepare and administer the elements. They stood in four groups of two, one council member holding a plate of small portions of bread and the other holding a cup of grape juice. The worship team played and sang "Jesus, Strong and Kind" as the congregation, in their time, walked up to a group of two council members, grabbed a piece of bread and dipped it in the juice before eating it.
"This is the body of God, broken for you. His blood shed for you," council members said to each attendee as attendees took part in the Lord's Supper.
The service ended with the doxology and a blessing.
"We're all participating," said Sioux Center resident John Baas. The Good Shepherd church member is also Vice President of Advancement at Dordt University. "The more we do these things over and over, the more we internalize them, so that we can go through the same liturgies throughout our week."
Baas occasionally runs the Sunday school for adults, Right Paths. When he's not leading, he always attends and enjoys the discussion.
High school and middle school Sunday schools meet in the gymnasium and library, respectively. The younger children attend Sunday School, Kingdom Families, with their parents.
Nancy Franken of the Sioux Center recently started a night of prayer where Good Shepherd members pray together while the church board meets. Baas attended the night of prayer and led the week after Palm Sunday.
Recently, Good Shepherd formed a ministry team to research the possibility of hosting an Afghan refugee family. Samaritan's Purse approved the Good Shepherd to resettle a family, and the church entered a waiting phase. They are open to the resettlement of an Afghan or Ukrainian family. During the waiting process, the ministry team works to find different outreach opportunities at Sioux Center.
"We can't wait to go to church," Baas said. "And when church is over, we're more glad we went than we looked forward to going."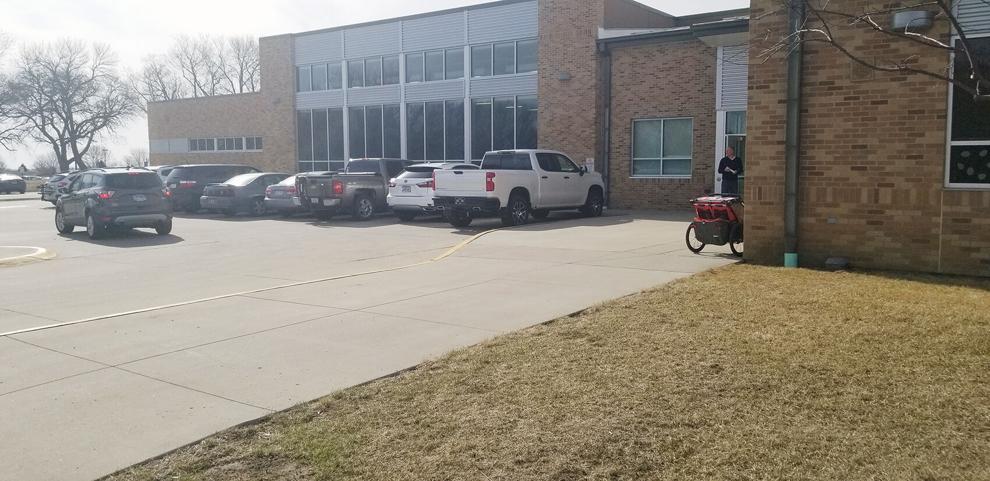 The church maintained 150-200 weekly attendees but expanded into other areas.
"Tonight we have a group of people praying at Nancy's house, we have a church council going on… At this meeting we have a young woman making a profession of faith. And a high school student meets a youth worker to make his profession of faith," Hulshof said. "It's exciting to see our little dream come to fruition, just a normal night at Sioux Center."
Zac VanderLey from Seattle, WA is a senior high school major at Dordt University at Sioux Center. After graduating in May, he will teach high school English at Seattle Christian School next year. He attended Good Shepherd Church in his senior year in Dordt.