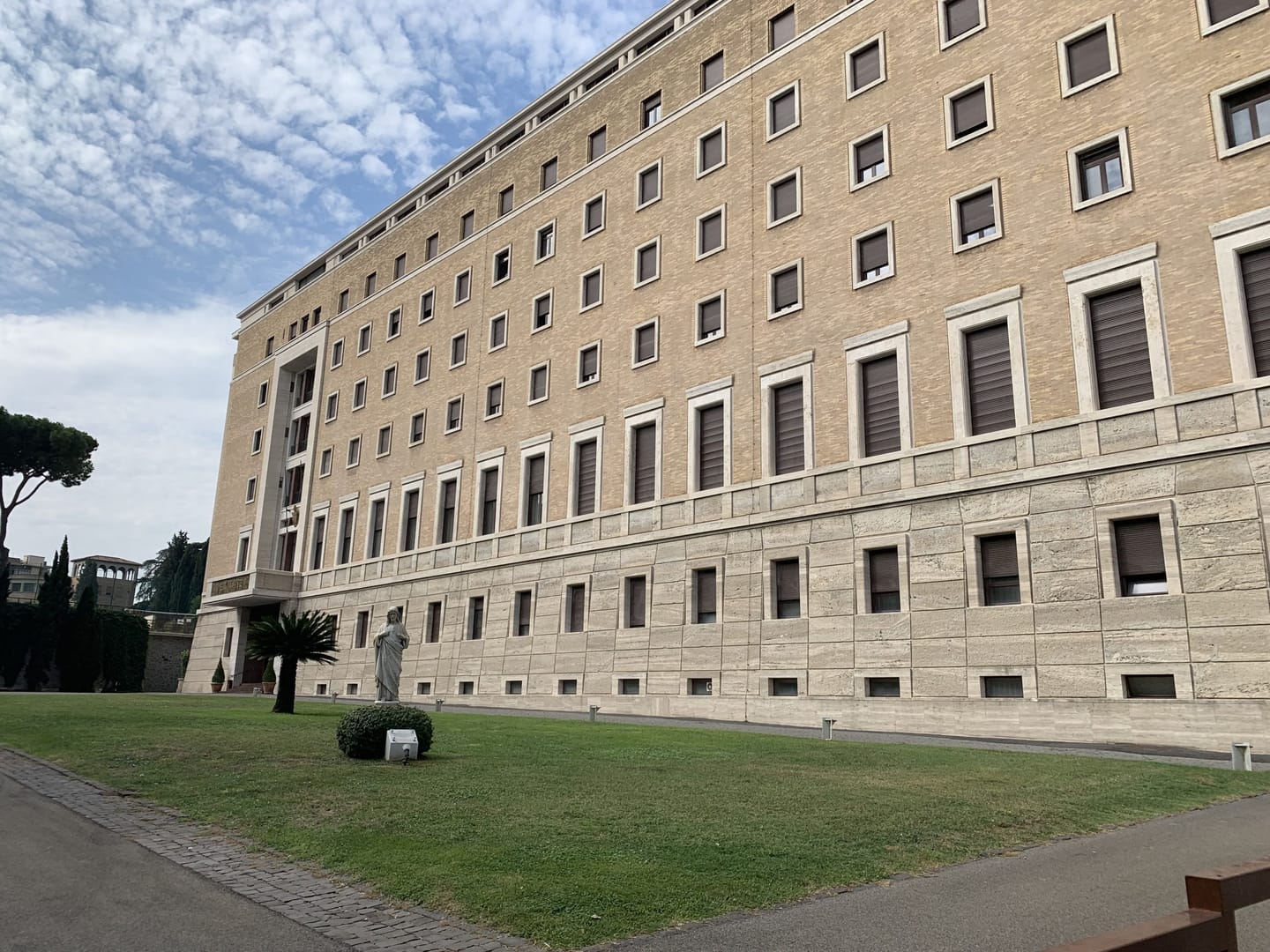 ROME — On Wednesday, the Vatican announced that Monsignor Thomas Powers would take over as the new rector of the Pontifical North American College, the Rome-based seminary for young men pursuing studies at pontifical universities while studying for the priesthood. .
Powers, a graduate of the so-called NAC – which is run by the American bishops' conference – in the class of 1997, previously served as an official of the Vatican Congregation for Bishops from 2005, assisting the formation faculty of the college as assistant spiritual director.
After spending 10 years in Rome, Powers returned to his native diocese of Bridgeport, Connecticut, in 2015, where he most recently served as vicar general, as well as pastoring St. John Parish in Darien.
He replaces outgoing father Peter Harman, a priest from Springfield, Illinois, who stepped into the role of NAC rector in 2016, and has stayed beyond the usual 5-year term because the selection of a successor has been delayed by the coronavirus pandemic. .
His term as the 24th rector of the CNA takes effect on July 1, 2022.
Founded in 1859 by Blessed Pope Pius IX, the NAC has welcomed more than 5,000 priests from across the United States, Canada and Australia, and currently serves more than 200 young men who are studying for the priesthood or who have been ordained. and pursue higher education in Rome.
Pope Francis visited the NAC on May 2, 2015 for a special day of prayer and reflection on the life of Saint Junipero Serra, whom he canonized in Washington, DC during his visit to the United States in September of the same year.
In a March 30 press release announcing his appointment, Powers said that "although being the next rector of the Pontifical North American College was never something I expected or sought, I very grateful to have been asked to take on this important role".
"In accepting this appointment, I ask the Lord to grant me the grace to fulfill this role faithfully, and I entrust myself to Our Blessed Mother, Our Lady of Humility," he said.
Harman, for his part, praised his successor, calling Powers "a talented, generous, faithful and holy priest. I cannot think of a better example and Spiritual Father for men in priestly formation here at North American College.
Any appointment of a new rector to the NAC is important, and everyone brings different things to the table during their tenure at the helm, however, Powers has a unique challenge in that he takes over at a time when Pope Francis calls for a profound reform of clerical culture.
Since his election in March 2013, Pope Francis has been on a crusade to eradicate clericalism from the Church by changing the perception that priests and the Catholic church hierarchy are a distinguished and superior class who enjoy special privileges and honors in virtue of their ordination.
The perception that priests enjoy high status and the abuse of power and authority that often accompanies clericalism have often been seen as an underlying cause of global Church abuse scandals, including high-profile cases that erupted during Harman's tenure, such as the notorious case of ex-Cardinal and ex-priest Theodore McCarrick.
Although McCarrick did not study at the NAC – which produced several top American Church leaders such as Cardinals Raymond Burke, Blase Cupich, Daniel DiNardo, Timothy Dolan and Donald Wuerl – he often stayed there during his visits to Rome later in his ecclesial career.
Powers, in his new position, is charged with executing Pope Francis' vision of a more humble and service-oriented clergy, less obsessed with rules and doctrinal fine print and closer to and more involved in people's lives. entrusted to him.
He also became involved following Pope Francis' decision last year to restrict the traditional Latin Mass, which had become popular especially among younger conservative clergy in the United States.
Even though Pope Francis himself, as bishop of Rome, authorized the continuation of the celebration of the traditional Mass in Latin in certain parishes already attached to the ancient rite, these masses and their formation have been suspended in DAC.
Harman released a memorandum last August in which he explained that the NAC would no longer offer training in the Traditional Latin Mass or allow its celebration on campus on the grounds that, per Pope Francis' decree, the authorization to celebrate the so-called "old rite" must be given by the diocesan bishop of the priests, but this authorization is "not sufficient" outside the respective dioceses of the priests.
These are just a few examples of the great changes currently taking place for initiates in the Catholic Church, and it is Powers' job to accompany NAC seminarians and help them through these changes over the five coming years.
Before coming to Rome for his work at the Congregation for Bishops in 2005, Powers earned a degree in economics from the University of Notre Dame in South Bend and was a financial consultant with Andersen Consulting in New York.
In 1991, he spent a year as a volunteer in Puerto Rico through the Notre Dame Center for Social Concerns, then entered St. John Fisher Seminary in Connecticut to pursue priestly studies. He moved to the CNA in 1993, earning a BA in Sacred Theology from the Pontifical Gregorian University and a Licentiate in Sacred Theology from the Pontifical John Paul II Institute for Marriage and the Family.
He was ordained on May 24, 1997, and served in various assignments in his home diocese before being called to the Vatican in 2005.
Remarking on Powers' appointment as rector of the NAC, the Bishop of Bridgeport, Frank Caggiano, said, "I am not at all surprised that the Board of Governors of the Pontifical North American College has chosen Monsignor Powers to fill the position. of rector".
"In my opinion, they couldn't have made a better choice. Although he will be terribly missed in the Diocese of Bridgeport – both as Vicar General and as Pastor – I am happy for the College," Caggiano said.
Bishop Robert Deeley, chairman of the college's board of governors and bishop of Portland, Maine, said Powers is "extremely well-positioned to serve as our next rector, given his extensive background in seminary training, his many pastoral skills, and his previous work in church governance and administration.
"We are very grateful to him for accepting our nomination," he said.
Follow Elise Ann Allen on Twitter: @eliseannallen