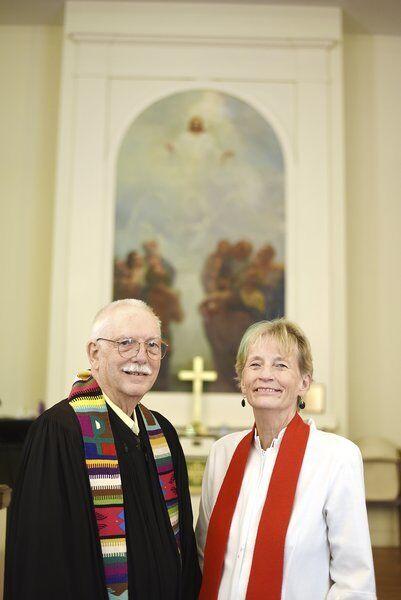 A husband and wife are the new pastors of the United Methodist churches in Gloucester and Rockport.
The Revs. Valerie and Printice Roberts-Toler succeed Reverend David Myers, who retired last month. The Roberts-Tolers were also retired, having moved to Gloucester two years ago after decades of preaching. While Valerie said she welcomed the break, Printice was not ready to stop work.
"I was really hungry," Printice said. "I wanted to resume teaching and do the things that I have been doing all my life."
The two said they were happy to be back in the saddle, so to speak.
"This is where God wants us to be," Valerie said with a smile.
Valerie, an ordained minister for 30 years, is from western Massachusetts while Printice is from Los Angeles. Printice was originally ordained into the congregational church 50 years ago, but began to focus on Methodist teachings while pastoring at Connecticut Valley Hospital in Middletown, Connecticut. Around this time he met Valerie, who was studying Methodism at Gloucester.
"I was drawn to (Methodism) because I was looking for ordination, and other denominations are not welcoming to women," said Valerie. "It pains me, however, that this denomination has not been welcoming to the gay community. I want to make it clear that (The United Methodist Churches of Gloucester and Rockport) are welcoming to all. I'm not afraid to infringe. the rules if it gets there. "
The two have three children together. At the end of last year, they welcomed their first grandchild. They had just finished babysitting the 10-month-old baby on Monday night when The Times spoke to them for this article.
Since July 1, Valérie and Printice have been exchanging each week between the two churches. When one is preaching the 9:15 a.m. service at Gloucester Church, 436 Washington St., the other is attending the 11:00 a.m. service at Rockport Church, 36 Broadway.
The couple live in the rectory of Gloucester United Methodist Church at 6 Holly St.
At this point, they said their goal was to get to know the Cape Ann Methodist community better. Later, Valerie said she hopes to work more with the youngsters of Gloucester and Rockport. She is already involved in the Cape Ann Interfaith Commission. Printice said he was looking to organize a Bible study group with church members.
"We have dedicated people in these churches and we want to confirm that," Printice continued. "They greeted us graciously and we loved every minute of being here. (Cape Ann) is an amazing place."
"The challenges facing churches are not new to us," continued Valérie. "Despite these challenges, especially those caused by COVID, it is our job to spread the good news in a world of bad news. I think this is really what people need more than ever.
Michael Cronin can be contacted at 978-675-2708 or [email protected]