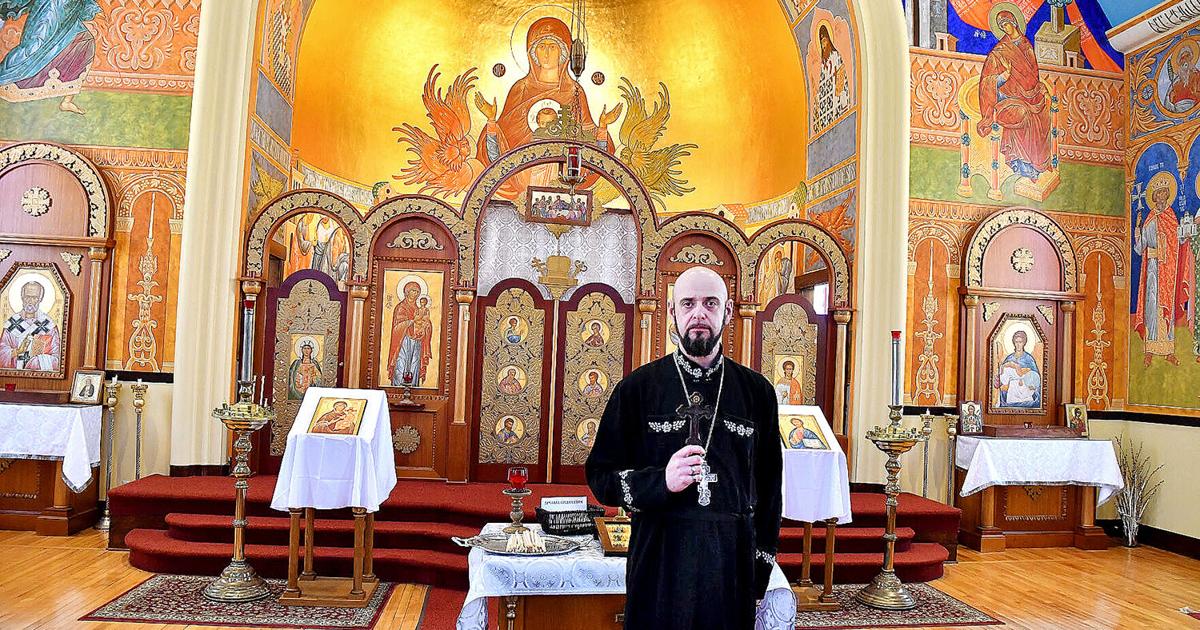 WOONSOCKET — Rhode Island is coming together to support the Ukrainian community as their homeland remains under attack, according to the Reverend Boris Kroner of St. Michael's Ukrainian Orthodox Church in Woonsocket.
On Sunday, February 27, the parishes of St. Michael's Ukrainian Catholic Church and St. Michael the Archangel came together for a joint service at St. Michael's Ukrainian Orthodox Church. Archangel Michael Reverend Mykhaylo Dosyak joined Kroner, along with Auxiliary Bishop Robert Evans of the Catholic Diocese of Rhode Island.
The service was what is called a moleben, or intercessory service, performed on feast days, in honor of a saint, or as needed. This moleben was offered on behalf of the ongoing crisis in Ukraine.
Lieutenant Governor Sabina Matos and Secretary of State Nellie Gorbea were present at the service as parishes prayed together and collected humanitarian aid.
Kroner said the phone kept ringing and the support for the community and aid organizations has been very strong. St. Michael's Ukrainian Orthodox Church directly accepts humanitarian aid.
Kroner added that he was busy with events in favor of Ukraine. On Monday, February 28, he attended the raising of the Ukrainian flag in East Providence. On the same day, Governor Dan McKee sent a letter to President Joe Biden expressing that Ukrainian refugees are welcome in Rhode Island, in addition to announcing that the Statehouse will continue to be lit in blue and yellow, the colors of the flag. Ukrainian, in solidarity. .
Dosyak requested that any humanitarian aid to their church be sent directly to the Ukrainian Catholic Archeparchy of Philadelphia, https://ukrarcheparchy.us/ or the Ukrainian Catholic Eparchy of Stamford, www.stamforddio.org .
Dosyak could not put into words how he is handling the violence perpetrated in his country. Most of his family is currently back in Ukraine, he said, and he has a lot to do. While he is able to get donations where they need to go, it would be more direct if they went to the Archeparchy or the Eparchy.
Since Russian President Vladimir Putin began attacking Ukraine on February 24, support for Ukraine has flowed in from the international community, all the way down to the local level.
The military action comes after decades of tension built up around Ukraine's vote for sovereignty in 1991 after the fall of the Soviet Union. In 2014, Russia seized Crimea, a predominantly ethnically Russian peninsular territory of Ukraine, which drew condemnation from the international community.
The February 24 invasion was largely motivated by the idea of ​​Ukraine joining NATO, an international military alliance that Putin sees as a threat to Russian security. World leaders have condemned his unprovoked attacks, sending weapons and other aid to defend Ukraine and calling for an end to the bloodshed, which has killed civilians in Ukraine.
As missiles and the army head towards Kiev, the capital of Ukraine, citizens are displaced as refugees as their home becomes a war zone. Military reservists between the ages of 18 and 60 remain in defense.
Parish plays future events by ear, Kroner said The breeze, and up-to-date information is available on their "St Michael's Ukrainian Orthodox Church" Facebook page. The moleben service is available on Facebook, as well as information on parish events.